It's too early to reckon off altcoins, according to the current picture of the cryptocurrency market. Most of the top assets are showing growth in correlation to Bitcoin, except for Chainlink, declining by 1.33%.
The reason for the current rise of altcoins might be connected with the Bitcoin market share, whose index has gone down by 0.5% over the last 24 hours.
It means that traders are switching to more volatile coins while BTC is facing stagnation.
TRX/BTC
Although TRX is trying to show bullish tendencies against the US Dollar, the coin is updating the bottom in correlation to BTC.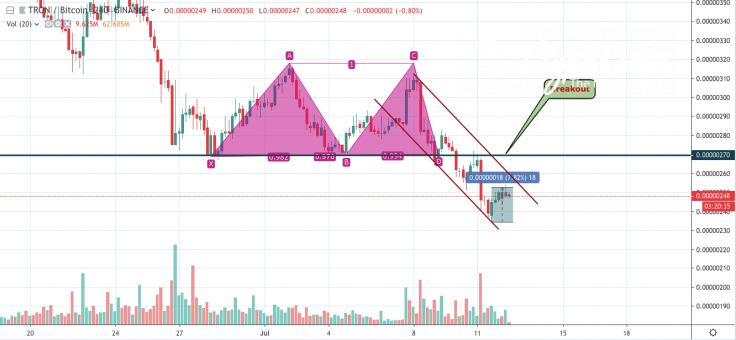 TRX/BTC chart by TradingView
Even though the rate of Tron has been increasing for two days, it is too early to think about the reversal on the long-term perspective.
Currently, TRX is located under bears pressure, and the possible breakout might occur, when the level of 270 Satoshi is reached.
The relative high index of trading volume is the confirmation of the upcoming price rise.
The price of TRX is trading at 0.00000248 BTC at the time of writing.
DASH/BTC
DASH is showing more positive tendencies than TRX, as its rate has increased by 2.65% over the day.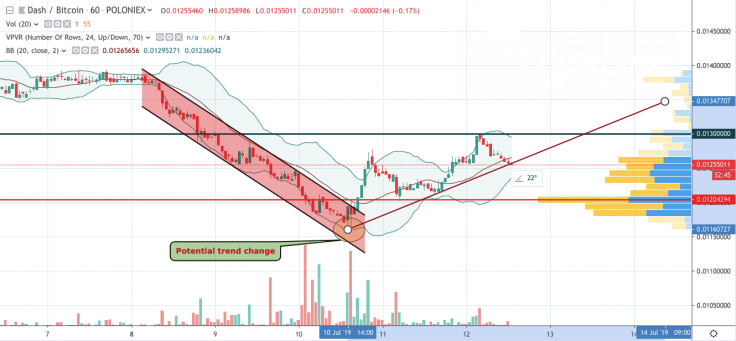 DASH/BTC chart by TradingView
On the 1H chart, DASH broke the support line at 0.0116 BTC and rushed to the previous resistance levels. At the moment of writing, the coin is located in an uptrend.
However, it is earlier to talk about an upcoming bull run before DASH reaches 0.013 BTC. Traders might expect this level in a few days, if the market volume becomes high as before.
The price of DASH is trading at 0.01258642 BTC at the time of writing.
NEO/BTC
While the quotes of other altcoins are increasing by 1% and more, NEO is stagnating, showing only 0.3% growth.
NEO/BTC chart by TradingView
On the 1H chart, the price of NEO has been declining for 10 days, and the bottom has been achieved at 0.001260 BTC.
From the point of the short-term scenario view, NEO is likely to locate in the yellow corridor, fluctuating between 0.001250 BTC and 0.001350 BTC. The bullish MACD indicator confirms such movements.
The price of NEO is trading at 0.00131310 BTC at the time of writing.
IOTA/BTC
The quotes of IOTA is trading in a similar pattern to NEO. The price has increased by around 1% over the last day.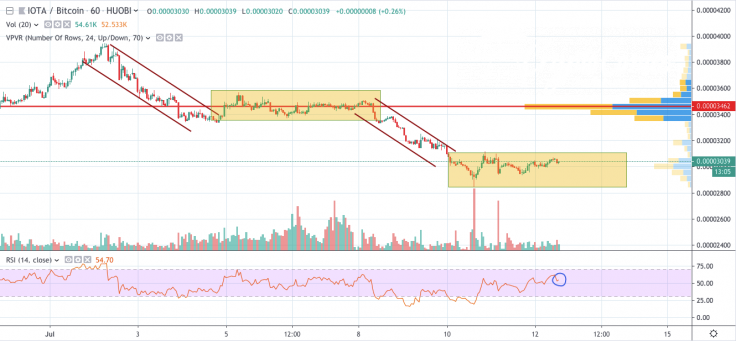 IOTA/BTC chart by TradingView
Analyzing the hourly chart, IOTA has been dominated by bears with a slight rollback since the beginning of July.
Concerning the nearest forecast, the price might increase to 0.00003100 BTC, which is confirmed by the rising RSI indicator. In addition, trading volumes are also quite high.
The price of IOTA is trading at 0.00003036 BTC at the time of writing.