High-performance proof of stake (PoS) blockchain Cardano (ADA) has accomplished a significant milestone. Launched only in August 2020, Cardano (ADA)'s staking ecosystem became the most popular one for stakers.
"Biggest staking network in the world"
Staking Rewards, a well-known analytical dashboard focused on staking metrics for PoS and DPoS blockchains, has announced that Cardano (ADA) is the undisputed leader of this segment. Cardano's most impressive achievements are in terms of market capitalization.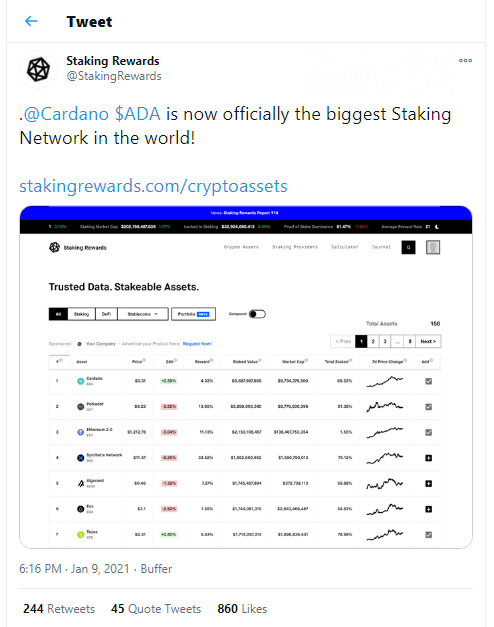 Image via Twitter
At press time, the net value of ADA staked on the Cardano (ADA) ecosystem surpasses $7.25 billion. Therefore, with $10 billion in market capitalization, Cardano (ADA) sees almost 70 percent of its tokens staked.
Cardano's (ADA) closest competitor, cross-chain infrastructure provider Polkadot (DOT), showcases $6.1 billion in staked value with $9.2 billion in market cap. To provide context, it should be noted that Polkadot (DOT) staking rewards are three times as generous as Cardano's payouts.
The long-term champion of this segment, Tezos (XTZ), now barely surpasses $2 billion in net value of its staked coins. Recently, it was toppled by Synthetix Network (SNX) decentralized financial protocol with its insane 38 percent rewards, and Tezos left the top five most popular staking coins.
Cardano (ADA) inches closer to even more decentralized staking
Ethereum (ETH) 2.0, a proof of stake (PoS) version of Ethereum (ETH) protocol sits in third place with $2.3 billion staked value. Its inaugural stage, Phase Zero or Beacon Chain, launched only five weeks ago. Meanwhile, the whole process of ETH2's rollout may take many months.
As covered by CryptoComes previously, Cardano (ADA) implemented a series of initiatives focused on the maximum decentralization of staking and delegation processes.
On Dec. 6, rewards mechanisms in Cardano (ADA) were adjusted to prevent the most influential staking pools from dominating the network. Cardano's (ADA) crucial decentralization indicator (k-parameter) reached the level of 500, so all "saturated" pools saw their rewards decrease.