At the moment, Argentina and Hong Kong are facing economic recessions over the current events in these countries – in Argentina, its former president Mauricio Macri lost elections to Alberto Fernández, his rival with left-wing views.
In Hong Kong, the population keeps conducting their anti-government protests. All of these are causing local platforms to trade Bitcoin with a premium. BTC is being sold 10 percent higher in Argentina and 4 percent up in Hong Kong, as reported by Bloomberg.
Troubled countries are moving from volatile fiat to volatile Bitcoin
With a premium that citizens of Argentina and Hong Kong have to pay to grab some BTC and with the recent BTC price plunge in mind, seems like for these and other countries with troubled economy Bitcoin is not quite a safe haven asset as experts are trying to convince the world.
Now that Argentinian peso has dropped over the political uncertainty, LocalBitcoins there was recently trading it 10 percent higher than on the rest of crypto exchanges. In Hong Kong, premium for buying BTC was 4 percent.
Apart from the aforementioned countries, other poor economies, such as Turkey and Venezuela, seek refuge in Bitcoin too. However, despite the fact that Bitcoin is widely believed to be a way of averting risks from plunges of local fiat money, the current drawdown of the BTC price shows that Bitcoin remains as volatile as the local currencies in these countries. Therefore, people here are jumping from one unstable asset to another.
At press time, Bitcoin is trading at $10,436, as per CoinMarketCap.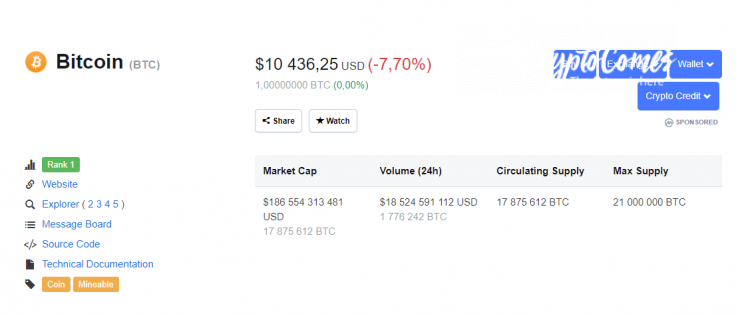 Image by CoinMarketCap
Argentinians are going for USD, not BTC
Many Argentine citizens, who want to stay safe while peso is slumping against the USD, prefer to buy dollars at the moment, writes crypto expert Alex Kruger on his Twitter page.
Before bitcoiners start using Argentina (my country) as excuse to yell "Buy Bitcoin" and generate clicks and sell newsletters.

Argentines want to protect themselves against the peso losing value versus the dollar. And for that, they buy dollars.

— Alex Krüger (@krugermacro) August 12, 2019
He also believes that the existing political tragedy in Argentina should not be used for making statements based on lack of reliable information.
I do believe everyone should have bitcoin. Argentines in particular. I am openly bullish bitcoin for multiple reasons. However, I don't think it is right to use a national tragedy to fabricate uninformed narratives.

— Alex Krüger (@krugermacro) August 12, 2019