The impressive Bitcoin (BTC) price spike has resulted in an unexpected "decoupling" between the flagship cryptocurrency and the S&P 500 index. It may mean that true "greed" is simply not there yet.
Santiment: Bitcoin (BTC) is not correlated with S&P
Santiment, an industry-level vendor of on-chain analytics, noted that the level of correlation between the Bitcoin (BTC) price and the rates of the S&P 500 Index—which showcases the performance of stocks issued by 500 top U.S.-listed companies—has dropped to zero.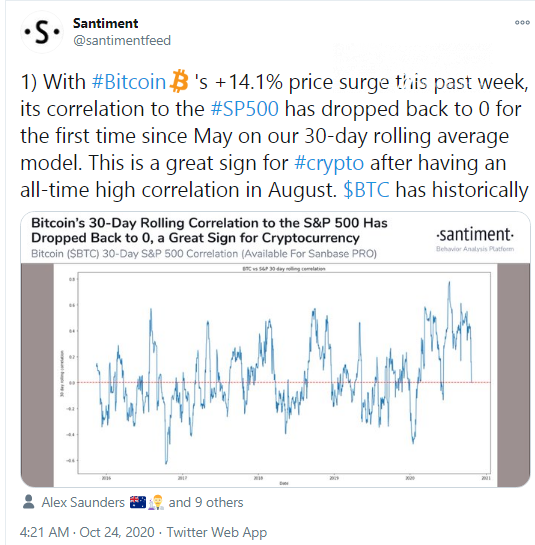 Image via Twitter
According to the graph based on the 30-rolling average model, the correlation has never been so low since May of this year. The previous lows were registered in early 2020, before Black Thursday in Crypto.
By contrast, during the previous Bitcoin (BTC) upsurge in August, the correlation between the two values jumped to historic highs at 0.8. This level means an almost direct positive correlation between the performance of the flagship crypto and the most important U.S. index.
Santiment analysts stress a positive context for this drop in Bitcoin (BTC) as its performance does not appear to be affected by third-party catalysts:
$BTC has historically thrived when its reliance on world markets, and other asset classes & industries, is minimal, and trading can operate independently without interference from non-crypto events as distractions.
In the shadow of the Bitcoin (BTC) spike
This drop coincided with an impressive 15 percent run of the first cryptocurrency. On Oct. 24, it revisited 2020 highs over $13,200.
Typically, Bitcoin (BTC) and the S&P 500 demonstrate a strong correlation only in periods of maximum greed or maximum fear. This rule, known as "Amygdala Overdriven Relationship," was delivered by Charles Edwards of Capriole Investments.
Thus, FOMO on the Bitcoin (BTC) market may not yet have begun.
As covered by CryptoComes previously, the Bitcoin (BTC) price upsurge resulted in a whopping 25 percent spike in futures open interest (OI) across major trading platforms. Binance and CME establish themselves as the two main beneficiaries of the recently begun futures market run.