After a two-year accumulation, the price of NEO, a native asset of the Neo proof-of-stake (PoS) blockchain protocol, has finally joined the bullish reversal within the entire crypto segment. It looks like its growth is driven by technological progress announcements.
Bullish August for NEO
Despite the bearish downtrend of NEO's price, which was broken in July 2020, it appears that August has catapulted this asset. After touching a local bottom at $9.70, NEO gained 20% in July 2020 and 72% in August 2020.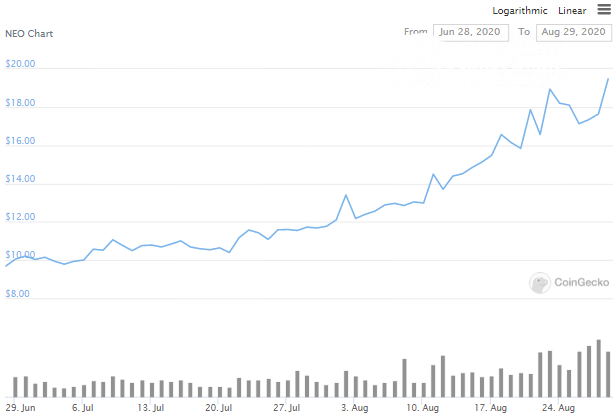 Image by Coingecko
Today, August 29, 2020, NEO touched a new local high of $19.23, moving it up 5.2% in the last 24 hours. NEO has returned to the Top 20 cryptocurrencies by market capitalization (excluding stablecoins USDT and USDC).
This price upsurge is accompanied by a significant rise in trading volume. The net trading volume of NEO tokens has surpassed $557 million, which is higher than that of red-hot newsmakers Polkadot (DOT) and Yearn.Finance (YFI).
Unlike several other rallies from bullish Summer of 2020, the ongoing run of NEO is probably driven by fundamentals and technical progress, not by market hype nor by the interest of short-term speculators.
Introducing Flamingo, Full-Stack DeFi Protocol on NEO
Two days ago (August 27, 2020), the CEO and Co-Founder of NEO unveiled the design of the first NEO-based DeFi protocol Flamingo. Flamingo may be rolled out as soon as September 2020.
Flamingo @FlamingoFinance is a full-stack #DeFi protocol integrating #crosschain asset gateway, #AMM-based swap, synthetic #stablecoins, and AMM-based #Perpetual.
First product - Wrapper to launch mid Sep. https://t.co/rZzldLreDj

— Neo Smart Economy (@Neo_Blockchain) August 27, 2020
It will support cross-chain interoperability with Bitcoin (BTC), Ethereum (ETH), and Ontology (ONT) networks, automated market-making, perpetual contract trading, and vault and swap mechanisms.
The users of Flamingo will benefit from this participation economically through staking of cross-chain assets, native tokens of liquidity providers, as well as from providing liquidity with the synthetic stablecoin FUSD.
Neo has also launched the Poly Network interoperability protocol in collaboration with Ontology and Switcheo, and integrated interoperability functions with the NEO mainnet.