Launched with much fanfare in September, Flamingo Finance reveals its immediate plans to bring decentralization into its main space, Flamincome "yield farming" environment.
Token airdrop for voters and stakers
According to the official announcement by the Flamingo Finance team, it is focused on decentralization of Flamincome service governance. To achieve this ambitious goal, the governance token FLAG has been launched.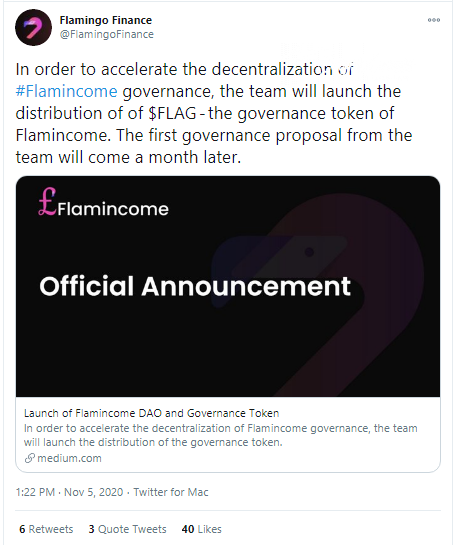 Image via Twitter
Its first distribution will take place on Nov. 6, while the first governance proposal will be released in one month. FLAG will go live on Ethereum blockchain, and its initial supply will be set at 1,048,576 in the first year.
New FLAG tokens will be released every year to keep the inflation rate at 100 percent. Fifty percent of FLAG will be distributed among stakers of specific assets on Uniswap, while the other 50% percent will go to the users voting on governance proposals.
To be included into the first part of the airdrop (for staking activity), participants in the Flamingo Finance community need to lock liquidity in one of three native pools (nWBTC-WBTC, nWETH-WETH, nUSDT-USDT) on Uniswap. Voters will be rewarded in accordance with the framework developed by DAO veterans Aragon.
Introducing Flamincome DAO
With the further adoption of FLAG tokens, holders will be able to publish governance proposals and vote on them within the framework of the Flamincome DAO. An issues referendum may be held to include tokenomical and technological aspects of Flamingo Finance operations.
For instance, voters can propose new types of assets for listing on Flamingo Finance, reconsider asset management strategies, customize fees in "yield farming" mechanisms and more.
The Flamingo Finance team added that detailed manuals and documentation on the Flamicome DAO will be released to the public in early December.