Starbucks now allows its customers to track the origin of their coffee with the help of Microsoft's blockchain technology, according to an Aug. 25 Bloomberg report.

Starting from today, it is now possible to enter a package code into the Starbucks app to find out all the details about the journey of the company's coffee beans — from farmers to the retailer.
"Bean to cup" tracking
Back in March 2019, Starbucks unveiled its "digital transparency" plan as part of its ethical sourcing program.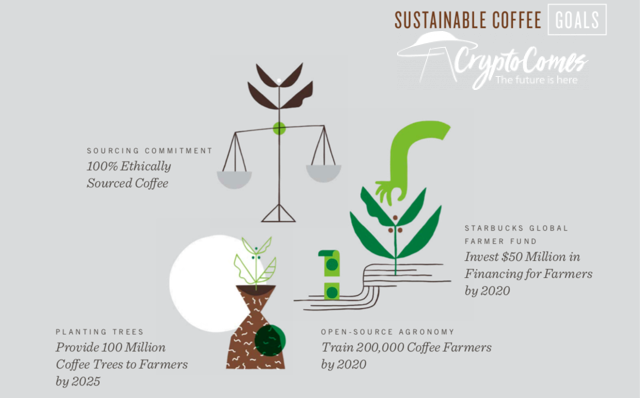 image by seekingalpha.com
Two months later, Microsoft announced that it was developing a supply chain tracking system for the Seattle-based coffee giant.
The whole process of coffee production (from bean to cup) is recorded on a ledger powered by Azure Blockchain Service.
Michelle Burns, senior VP of global coffee and tea at Starbucks, highlighted the importance of exploring "the humanity" behind the coffee":
"This kind of transparency offers customers the chance to see that the coffee they enjoy from us is the result of many people caring deeply."
She claims that they have been collecting pertinent data for "almost two decades":
"We have been able to trace every coffee we buy from every farm for almost two decades. That allowed us to have the foundation to now build a user-friendly, consumer-driven tool that certainly provides that trust and confidence to our customers that we know where all of our coffee comes from."
There is also a more prosaic motive — with the new traceability tool, Starbucks aims to attract conscious consumers who prefer fresh-roasted coffee from craft shops.
From salmon to sake
Back in June, the biggest Norwegian fisheries turned to IBM's blockchain in order to track the lifespan of salmon and prevent fraud.
In late March, EY Japan also announced a similar solution for Japanese sake makers that would help to weed out counterfeits.