Media outlet Global Times revealed that new devices have emerged with the benefits of decentralized data storage and a modern portable hardware environment.
A Seal That Won't Be Counterfeited
The Chinese media outlet shared photos of a blockchain-based digital surveillance complex, otherwise called its 'electronic seal'. It will be utilized by local law enforcement and judicial bodies.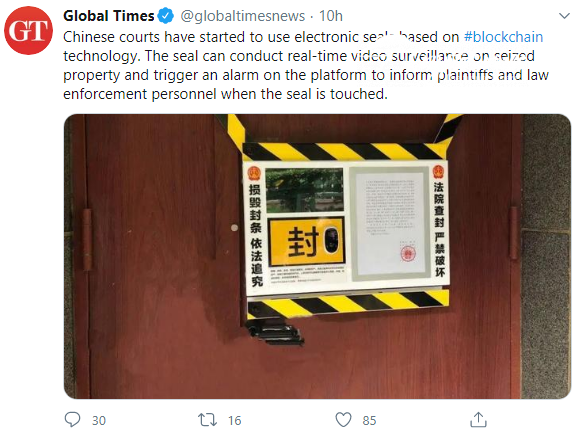 Image via Twitter
This gadget will be utilized to conduct video surveillance and control access to seized property. Once the seal is touched, the purpose-built system informs the plaintiffs and the local court about the alarm in real-time manner.
As the logs of the usage of this device are stored into a blockchain-based system, its integrity won't be corrupt by malefactor or a fraudulent defendant.
News about this gadget had commentators take to Twitter, raising concerns about possible abuse of the system by the authoritarian Chinese regime.
How Governments Are Using Blockchains
It's interesting that blockchain-based and distributed ledger technology are widely utilized by governmental bodies across the planet. Both democratic and totalitarian states have attempted to benefit from this industry.
For instance, Saudi Arabia launched a decentralized system that organizes its interaction between the Central Bank and local financial authorities.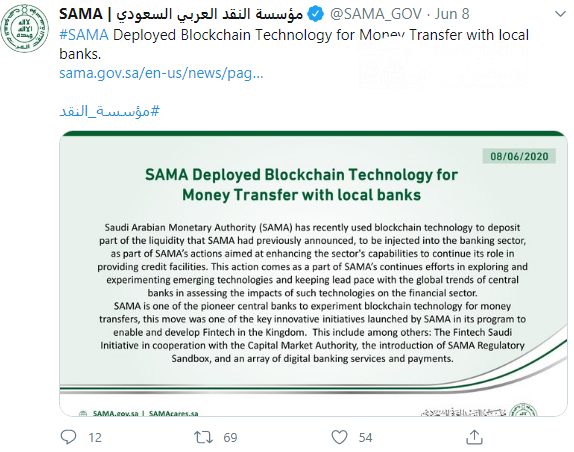 Image via Twitter
The Chinese government also tried to explore the potential of decentralized solutions. Last week, prominent venture investor Haseeb Qureshi disclosed that the China state-backed blockchain environment BSN will integrate with Ethereum (ETH) and the Nervos Network (CKB) public blockchains.
He treated this news as a 'big deal' and foresees them playing a major role in the adoption of blockchain technology in the People's Republic of China (P.R.C.).