It turns out that North Korean hackers have quite an exquisite taste in altcoins.

According to a forfeiture complaint filed by the U.S. Justice Department on Aug. 27, cybercriminals from the hermit kingdom hijacked a cryptocurrency exchange back in 2019 to steal $272,000 worth of obscure small-cap alternative cryptocurrencies such as Olive, Proton tokens and PlayGame tokens.
"Chain hopping"
Over the course of a joint investigation conducted by multiple law enforcement agencies, it was discovered that hackers relied on the "chain hopping" technique in order to cover their tracks.

They would move money from one coin to another (for instance, from Bitcoin to Tether), making it difficult to trace their ill-gotten funds.
However, U.S. authorities were eventually able to track them down with the help of blockchain analytics software.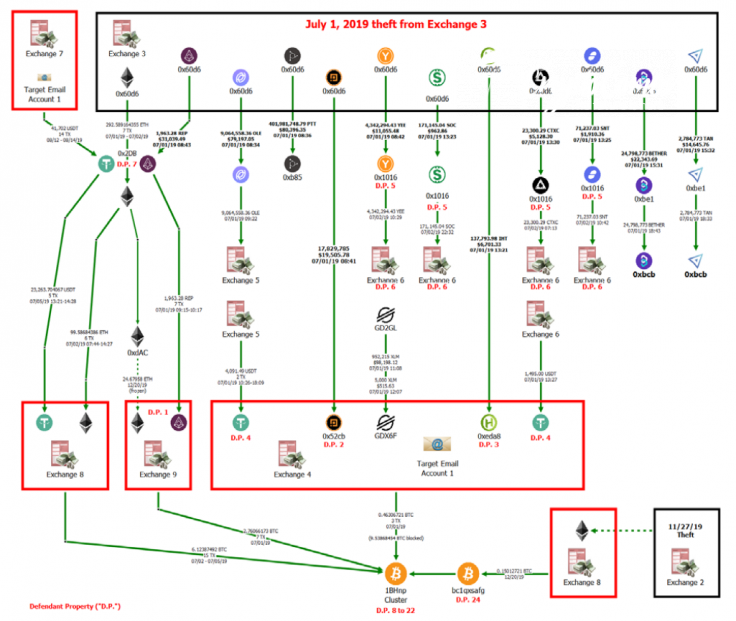 Image by justice.gov
FBI special agent Emmerson Buie Jr. makes it clear that the "anonymity of the internet" will not help North Korea hide its crimes:
Today's complaint demonstrates that North Korean actors cannot hide their crimes within the anonymity of the internet. International cryptocurrency laundering schemes undermine the integrity of our financial systems at a global level, and we will use every tool in our arsenal to investigate and disrupt these crimes. The FBI will continue to impose risks and consequences on criminals who seek to undermine our national security interests.
A seizing spree
The DOJ's suit also says that bad actors stole $2.5 mln from an unnamed U.S. exchange back in September 2019, which appears to be a related incident.
Overall, the agency is seeking to confiscate 250 accounts from North Korea. The regime relies on cyberattacks to fund its weapons program.

As reported by CryptoComes, over 300 cryptocurrency addresses that belong to terrorist organizations were also seized by U.S. officials earlier this month.