According to an Associated Press report, the Trump administration has seized the largest sum of cryptocurrency from terrorists to date.

The officials have confiscated funds from more than 300 cryptocurrency addresses, according to the United States Department of Justice (DOJ):
"These actions represent the government's largest-ever seizure of cryptocurrency in the terrorism context."
Funding terror with "charity"
A complaint that was filed on Aug. 13 by multiple federal investigative units sheds light on how al-Qaeda and other terrorist groups were relying on Telegram channels to collect Bitcoin donations under the veil of charities:
"As described below, al-Qaeda and affiliated terrorist groups operate a number of Telegram channels and purport to act as charities when, in fact, they are soliciting funds for the mujahadeen."
One example is a Syria-based organization called "Leave an Impact Before Departure." Camouflaged as a quasi-charitable organization that conducts humanitarian work, it was organizing Telegram campaigns to collect contributions.
As turned out, they were actually seeking funds to support ISIS fighters in Syria.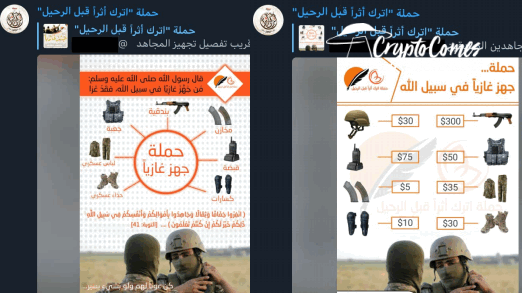 image by documentcloud.org
Al Sadaqah, another organization whose name translates as "charity" from the Arabic language, was also supplying jihadists with weapons by encouraging Telegram users to donate BTC.

Terrorists still prefer cash
Bitcoin's links to terrorist organizations have been well-documented. Last August, the New York Times published a report where it mentions how a leader of Tahrir al-Sham, the latest incarnation of al-Qaeda in Syria, was explaining the basic facts about the world's largest cryptocurrency in a video.

In 2018, Israeli blockchain intelligence firm Whitestream found out that one of Coinbase's customers was Palestinian terror group Hamas. The account associated with the Islamic extremists was then frozen by the exchange.

While lawmakers and regulators are clamoring about the danger of cryptocurrencies, terrorists actually prefer cold hard cash, according to a 2017 EU report.