A short while ago, the founder of Litecoin, Charlie Lee, tweeted that the long-expected LTC halving is about to occur in less than a week.
Today, on August 1, there are only four days to go before the event.
I'm announcing today that in 4 days, I will be cutting Litecoin mining rewards in half for the first time in 4 years. This should help prevent the possibility of a cryptocurrency downturn. 👍

And I will cut it in half again in 2023! 😮 https://t.co/YmUIHx5fLi

— Charlie Lee [LTC⚡] (@SatoshiLite) August 1, 2019
What happens to a coin's price after a halving?
A halving (or halvening) is when the reward of miners that work with a certain blockchain network gets cut by two. Bitcoin has also had a few halvings, the most recent of which took place right before the ATH in 2017.
When a halving takes place, fewer coins are generated in the network, which means that this particular crypto asset becomes scarcer than before and in theory should rise in price.
This has been the case after each BTC halving so far, so now the crypto community expects the LTC price to surge after the event as well.
Presently, the miners' reward for generating a new Litecoin block totals 25 LTC (that is about $2,500). After the halving takes place on August 5 it will reduce to 12.5 LTC ($1,250).
LTC price behavior in 2019
During Q1 of 2019, the LTC price managed to rise from $30 to $61, thus demonstrating a gain of 100 percent. In June, the coin reached the price of $145 but later on, it pulled back along with Bitcoin.
What is also important, the coin picked up major gains despite Bitcoin trading in a flat back then.
At press time, LTC is trading at $97, rising by 4.80 percent over the last 24 hours.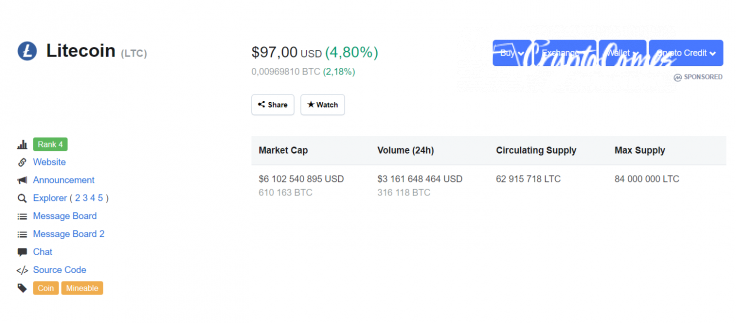 Image by CoinMarketCap
Anyway, after analyzing the history of LTC price rises over a few recent years, CoinDesk suggests that after the approaching halving takes place, the LTC may trade flat, unless Bitcoin picks up momentum and pushes it up.