In his tweet addressed to RT host Max Keiser, cybersecurity veteran John McAfee recently used the dirty 's-word' to describe Bitcoin, which is his latest attempt to badmouth the crypto king.

McAfee explains that he doesn't think particularly highly of Bitcoin because it lacks privacy, smart contracts, and decentralized applications (dApps).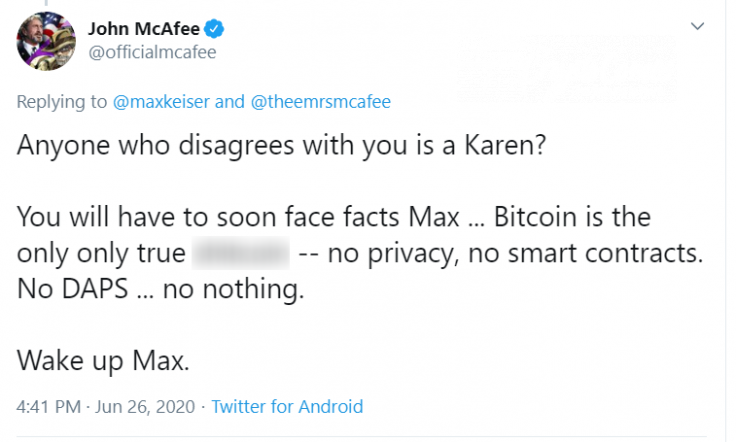 image by @officialmcafee
When the Karen meme goes too far
Keiser was the one who threw the first stone by calling McAfee's status of a Bitcoin influencer into question.
The former stockbroker who started promoting Bitcoin when back in 2011 claimed that McAfee was late to the game since he only started buying it when the BTC price was already above $2,000.
He also aimed fire at the controversial septuagenarian for promoting McAfee's 'Coin of the Day' tweets that many industry observers criticized as pump-and-dumps.
When Janice McAfee, the wife of the crypto baron, offered some pushback, Keiser called her 'a Karen,' a popular pejorative used in relation to irritating women. John McAfee wasn't having it.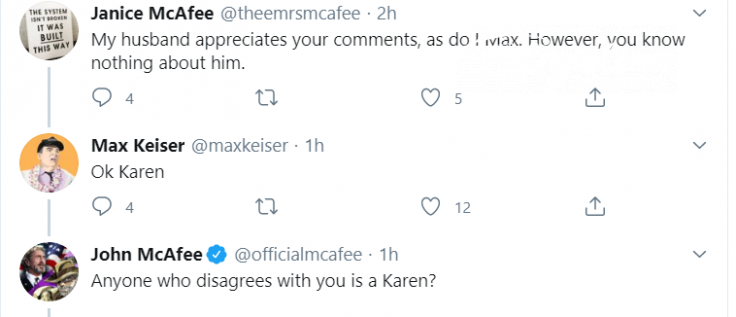 image by @officialmcafee
McAfee saw the end of Bitcoin before making his $1 mln prediction
In July 2017, McAfee made a wild forecast that the Bitcoin price would reach $1 mln, but he backpedaled on this call this January while rejecting Bitcoin altogether and embracing privacy coin Monero.
Now, he says that he saw the end of Bitcoin back in 2016 (a year before predicting seven figures) after becoming the fifth biggest miner in the world in 2015.