Virgin Group tycoon Richard Branson has a dire warning for cryptocurrency investors — do not fall for scams that use his name to get attention. As CNBC reports, the situation is getting out of hand with more and more bad actors pretending to be him on social media.
By hook or by crook
According to Branson, scammers who promote their Ponzi schemes on his behalf can be "quite convincing." Notably, they primarily target those users who already follow Branson on social media.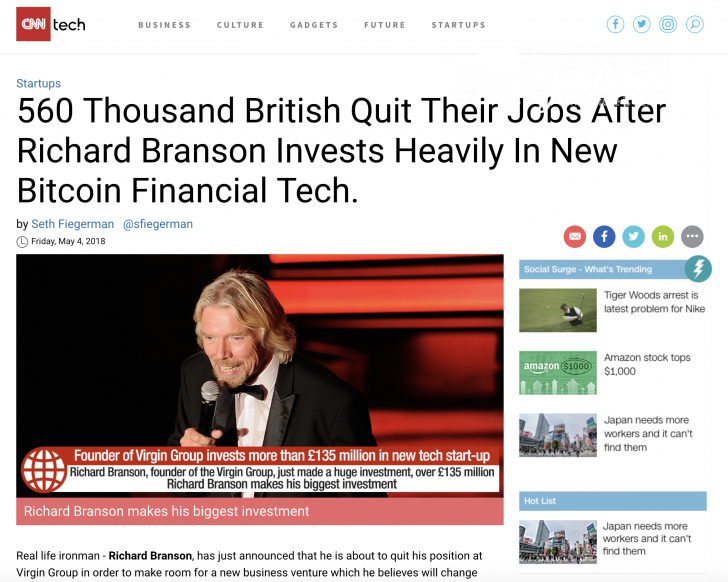 image by coindesk.com
Impersonators are fishing for gullible victims who fall for fake advertisements. The purpose is clear — obtaining money and sensitive information.

Branson points out that it's important to check whether his account has been verified to avoid such unfortunate situations.
My official social media accounts are all verified and, to be clear, I do not send direct or private messages to my followers and do not send personal messages regarding investments, charity donations or speaking engagements from these accounts or any others"
While he did mention crypto this time, Branson specifically addressed "fake Bitcoin scam stories" in his post that dates back to 2018. He claimed that his lawyers had dealt with "hundreds" of such cases.
Branson is not alone
Of course, Branson isn't the only celebrity whose brand has been damaged by crypto-relates scams. Many deep-pocketed investors (from Bill Gates to Dutch media tycoon John de Mol) also ended up participating in propositional campaigns that are run by the likes of Bitcoin Profit without them knowing.

De Mol even went as far as suing social media behemoth Facebook for not doing enough to put a stop on such damaging ads.