Lark Davis, aka The Crypto Lark, is one of the most influential YouTubers in the digital currencies segment. Based in New Zealand, he is referred to as a seasoned expert in Bitcoin (BTC) and crypto. Today, Oct. 25, he summarized the seven catalysts of his enthusiasm about Ethereum's (ETH) performance.
Ethereum (ETH) development progress and usage are rocketing simultaneously
Davis stressed that the Ethereum (ETH) network has never been so popular as an instrument of value transfer. According to statistics by leading analytics vendor Messari, in 2020, Ethereum's (ETH) transaction value surpassed Bitcoin's (BTC) and has a good chance of reaching the remarkable level of $1 tln.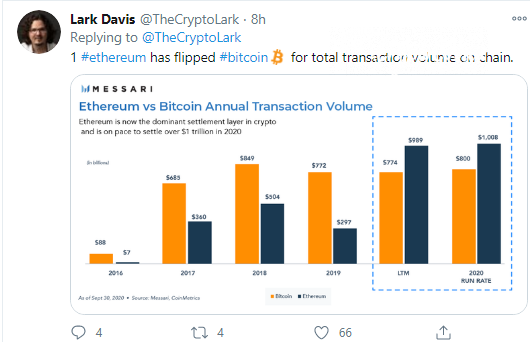 Image via Twitter
Meanwhile, Metamask, the leading browser extension for Ethereum-based transactions, has surpassed 1 mln monthly users.
Ethereum-based decentralized exchange Uniswap has left Coinbase in the dust in terms of trading volume. On Sept. 18, this platform processed more than $1 bln in a single day. The UniswapV2 governance token (UNI) airdrop catalyzed interest in decentralized trading.
With this huge spike in usage, the periodic burning of generated fees (EIP-1559), if implemented, could destroy more than 1,000,000 Ethers in 2020. Also, a number of prospective Ethereum-based solutions were activated on mainnet in 2020.
Second-layer Ethereum (ETH) scalability instruments like Matic Network (MATIC), OMG Network (previously OmiseGo, OMG) and ZK-rollups gained massive adoption in the last few months.
All eyes on Ethereum 2.0
The rollout of Ethereum 2.0, a proof of stake (PoS) iteration of the Ethereum protocol, can be an incredibly powerful driver of Ethereum (ETH) demand. Davis expects a sell-side liquidity crisis that may be caused by Ether migration prior to the launch of ETH2 staking.
As covered by CryptoComes previously, a validator needs a minimum of 32 ETH to participate in Ethereum (ETH) staking. In actual prices, this is over $13,000.
Finally, Mr. Davis recalled that the last Ethereum 2.0 testnet experiments (Medalla, Spadina, Zinken) pave the way to the "genesis date" announcement.
It should be noted that Ethereum (ETH) researchers confirmed that Medalla testnet with mainnet configuration ended successfully and proved that, in general, ETH2 data processes are healthy and viable.