Seasoned Ethereum (ETH) researcher Elias Simos has unveiled the first results of his "journey" through the data structures of the Medalla testnet.

The testnet is referred to as an important "dress rehearsal" before the rollout of Eth 2.0's phase 0 (a.k.a. the beacon chain).
Moderate optimism
Together with Sid Shekhar of Coinbase, Mr. Simos has studied the data processes related to validators' activity on the Medalla testnet. Their conclusions are published on GitHub in a special directory.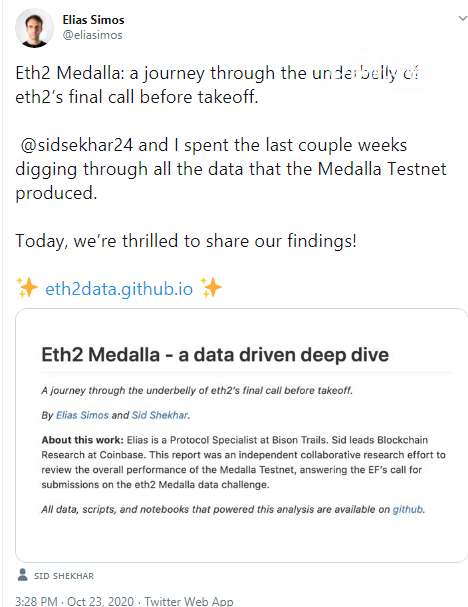 Image via Twitter
Mr. Simos admits that he is generally optimistic about the prospects of Eth 2.0's initial rollout. However, he also indicates some pitfalls that should be considered by developers and validators:
However, this doesn't mean that all is rosy in the state of Denmark.
Namely, he discloses that the system includes twice as many attestations as active validators per epoch. It results in a lot of wasted chain space, which potentially may cause a network overload.
In addition, he has noticed that 66% of all "slashed" (penalized for misbehavior) validators utilize the Nimbus client software. This fact can likely be attributed to serious synchronization bugs. Synchronization issues trigger most of the penalties for the validators.
The unfortunate fate of Ethereum 2.0 testnets
Mr. Simos stresses that Ethereum 2.0 will be a really complicated system subject to "concentration" — particularly during its inaugural phases. This conclusion is based on his estimations of Ether allocation by future validators. It should be noted that the minimum stake to participate in Ethereum 2.0 is 32 ETH or $13,400.
As previously reported by CryptoComes, the Medalla testnet emulates the configurations and specifications of the Ethereum 2.0 mainnet. It was preceded by unique short-lasting testnet experiments, Spadina and Zinken.
The Spadina testnet failed due to critical peering issues — Prysm nodes failed to get updated properly. Then, the Zinken testnet was launched successfully and demonstrated all crucial aspects of ETH2 operations.