After the successful integration of Plasma infrastructure by the Ethereum-based version of the U.S. Dollar Tether (ERC-20 USDT) stablecoin, its operator is considering adding ZK-rollup support. Why it this crucial right now and what is this technology all about?
ZK-rollups to boost Tether (USDT) transaction speed
Yesterday, on Aug.31, the average fee for one Ethereum (ETH) transaction set a new record. Now, according to numerous blockchain explorers, it is inching closer to the unbelievable level of $10. Five weeks ago it barely exceeded $1.50.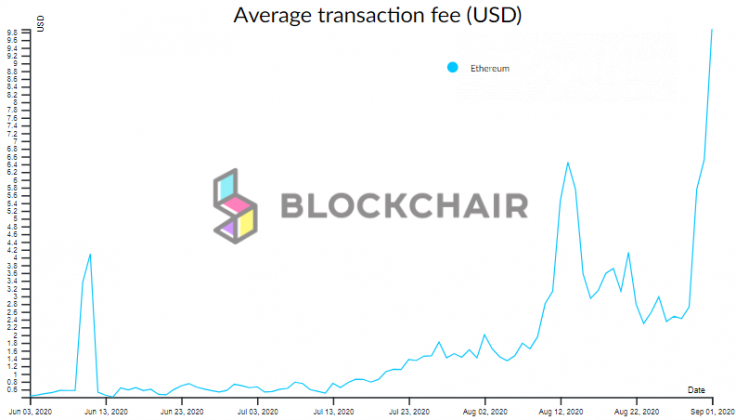 Image by Blockchair
This occurred due to the overload of Ethereum (ETH) network capacity caused by the new stage of the DeFi craze. The previous spike of average fees caused by the activity of Ether-based ponzis was far and away less powerful.
Amidst this collapse, CTO of Bitfinex and Tether, Paolo Ardoino, made an announcement about the possible advances in ERC-20 Tether protocol. He teased the implementation of ZK-rollups, a popular Layer-2 scalability solution.
After $OMG , @Tether_to is investigating zk-rollups support to reduce pressure on $ETH
Stay tuned! https://t.co/iFbDDPR9YL

— Paolo Ardoino (@paoloardoino) September 1, 2020
According to Etherscan, Tether is the second largest gas consumer (user of Ethereum network resources), surpassed only by the Uniswap DEX protocol. ERC-20 USDT accounts for about 11 percent of the entire capacity of Ethereum (ETH) mainnet.
Will this release break the trend?
ZK-rollup is a technology that unites information about multiple Ethereum (ETH) transactions into one data set. Then, the smart contract de-obfuscates it and broadcasts it to the Ethereum (ETH) mainnet without trade-offs in security and decentralization.
As a result, the pressure on the main chain has been reduced significantly. Its speed is increasing and transactional fees are going back to normal.
Recently, Tether (USDT) implemented another Ethereum second-layer scalability solution, Plasma, in collaboration with OMG Network (previously OmiseGo). The announcement about the finish of this process triggered a monstrous pump of OMG token.
Also, Mr. Ardoino admitted that the case of OMG-based Plasma implementation by Tether may expand to other services pushed by community-driven efforts.