The second biggest cryptocurrency, Ethereum, has printed a new high of $426 per coin, according to CoinMarketCap.
DappRadar analysts believe this is due to the fast expanding DeFi sphere and, in particular, the fact that more than $5 bln has been locked in with DeFi already.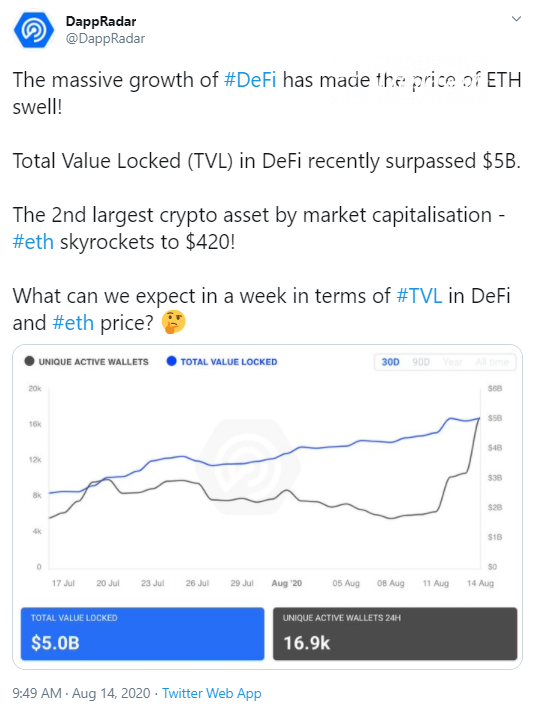 Image via Twitter
Gabor Gurbacs slams DeFi for being "inappropriate"
The popular analytics service dealing with decentralized apps, DappRadar, has tweeted that, recently, Ethereum's total value locked (TVL) in DeFi apps has grown to more than 5 bln USD.
The DeFi boom is expanding fast, although opinions in the crypto community regarding this modern trend have split, with some Bitcoin maximalists—VanEck's Gabor Gurbacs in particular—believing that DeFi apps may be "inappropriate" for retail users.
The chief digital asset expert at VanEck reckons that the majority of DeFi applications may be too insecure for retail users and for traders, since those apps are "over-hyped, hyper-leveraged, lightly tested and unaudited."
Gabor Gurbacs prefers to follow the "Bitcoin, not crypto" principle and bets only on BTC, as do many who view the flagship crypto as an inflation hedge and store of value only.
In his recent tweet, Blockstream CSO Samson Mow has called DeFi the new ICO.
He did not specify his attitude, though, as to whether he feels negatively or positively about the crypto fundraising method popular a few years ago, which made Ethereum famous.
YAM protocol collapse
On Aug. 12, the trendy YAM token collapsed from the $80 level down to almost zero after the same-name DeFi protocol it was based on encountered a major bug.
YAM protocol is a "yield farming" tool that has generated considerable of hype recently. An analysis of the bug revealed that a flaw in the protocol made it possible to issue many more YAM tokens than was first intended.
After a remedy for the trouble was offered, it turned out that it would only make things worse and the protocol would be unable to resume work. The co-founder of YAM, Brock Elmore, tweeted his apologies to the community.
Crypto influencers speak about YAM
Curiously, a day prior to the YAM collapse, BitMEX CEO Arthur Hays tweeted that he had started yield farming YAM in one of its staking pools.
At the same time, ShapeShift CEO Erik Voorhees slammed YAM and projects similar to it as scams.