Arthur Hayes, who runs BitMEX, has tweeted that from this point forward he is a "farmer" on the YAM DeFi platform.
ShapeShift CEO Erik Voorhees doubts that this project should be dubbed trustworthy and slams it as a scam, stating that projects like these may be good for Ethereum but will hardly be good for DeFi.
Arthur Hayes bets on DeFi yield farming with YAM
The BitMEX CEO has tweeted that he is now staking his COMP tokens on the DeFi protocol YAM to "harvest" the coins of the same name, which are ranked 2,231 on CoinMarketCap's DeFi token scale and are sitting at $80.14 at press time.
Tweeting about his new crypto hobby that promises high yields, Hayes says:
Long live the Defi bull market.
He added a popular expression of encouragement in Chinese that can be translated as "add oil": 加油.
What is YAM?
YAM is an experimental DeFi protocol that claims to be offering the "most exciting innovations in programmable money and governance." It offers an elastic token supply, a governable treasury and a mechanism of incentives that pushes major members to active governance.
The YAM protocol is built on the Ethereum chain. It offers eight pools for staking different coins. Arthur Hayes uses the one called "Compounding Hills," in which you stake Compound tokens and earn YAM.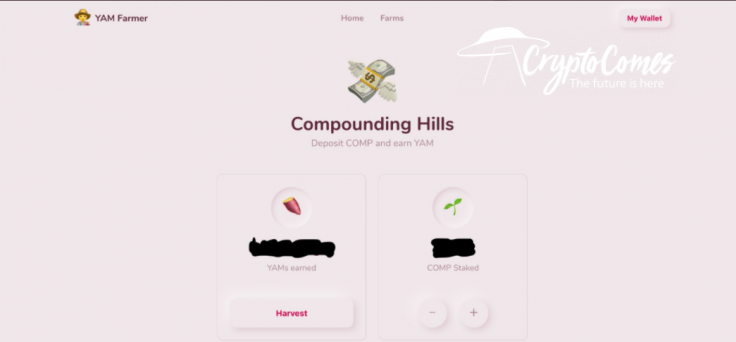 Image via Twitter
Erik Voorhees bashes YAM as a scam
CEO of the ShapeShift exchange and one of the early Bitcoiners, Erik Voorhees, has tweeted that he does not trust YAM and even called it a scam.
He then offered a milder description of YAM, calling it "fairly transparent pump and dump nonsense." Projects like this are unlikely to be good for DeFi, he tweeted.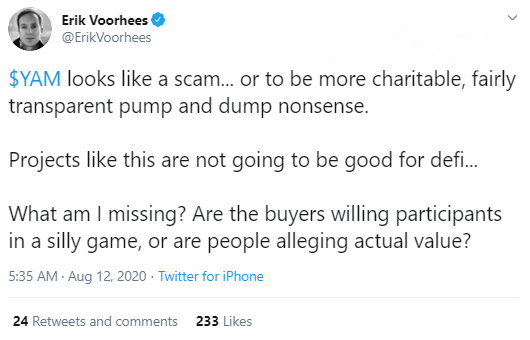 Image via Twitter
In a comment thread that followed, CoinDesk author Zack Voell tried to convince Voorhees that YAM is great since it brings out Ethereum's strong points for building dapps.
Still, Voorhees admitted that he does not believe YAM to be a good DeFi project, unlike BAL, COMP and CRV:
I understand BAL, COMP, and CRV and don't believe they are scams.