According to data provided by DeFi Pulse, more than 4.5 mln ETH has been locked in decentralized applications, marking yet another milestone for the burgeoning niche of the cryptocurrency industry.
This translates to roughly four percent of the total Ethereum supply, believed to be in the vicinity of 112 mln.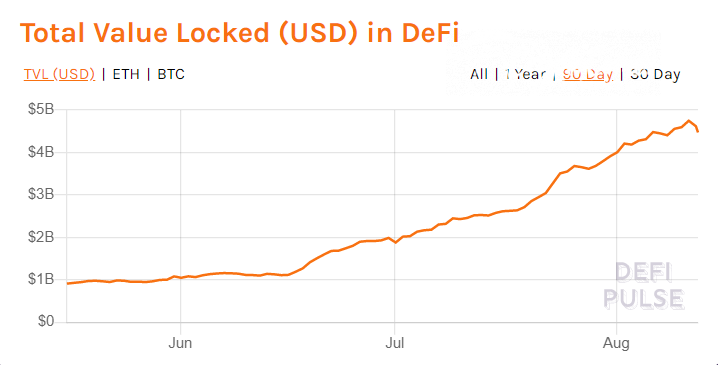 Image by defipulse.com
DeFi tokens save the day
MakerDAO remains the dominant DeFi application that currently accounts for 31.04 percent of the entire ecosystem with $1.38 bln of value.

Compound and Sunthetix are breathing down its neck with $798 mln and $668 mln, respectively.

During the all-out market carnage that took place on Aug. 11, the native tokens of these projects ended up being the only cryptocurrencies in the green. Compound (COMP) is currently the best-performing asset in the Top 100 after a 28 percent uptick, according to CoinMarketCap data.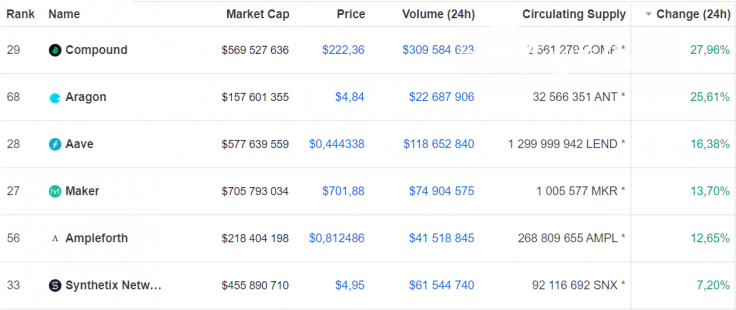 Image by coinmarketcap.com
Meanwhile, as reported by CryptoComes, the decentralized exchange platform Uniswap recently surpassed Bitstamp in terms of trading volume.

Ethereum remains Bitcoin's top off-chain destination
Another notable ecosystem development is the surging value locked in wBTC, the synthetic version of Bitcoin based on the rival Ethereum blockchain.
In just one month, more than $115 mln worth of BTC moved to the most popular tokenized version of Bitcoin, whose market cap recently reached yet another all-time high of $230 mln.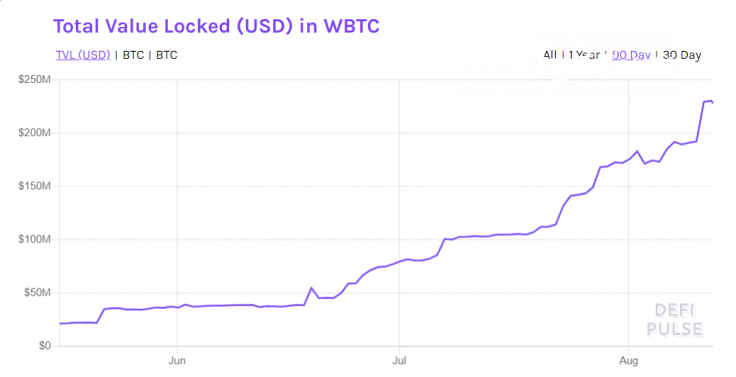 The fact that Ethereum has now become the largest second-layer solution for Bitcoin while the Lightning Network is struggling to grow its capacity certainly does not sit well with the maximalist crowd. However, surging Ethereum fees might end up thwarting wBTC's growth.