Ethereum fees now make up 42 percent of miner revenue, according to data provided by Glassnode, which is yet another all-time high. For comparison, their share was just 17 percent just a little over a month ago.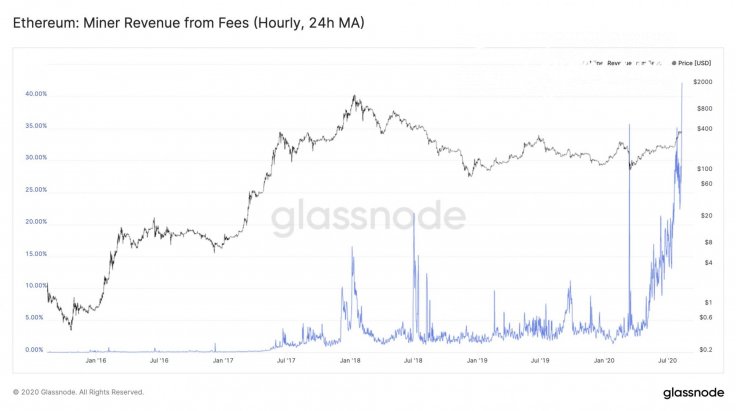 image by @glassnode
While this growth is attributed to the decentralized finance ecosystem (DeFi), there are also some notorious Ponzi schemes that continue to clog up the network.
Forsage, Ethereum's second most popular decentralized application (dApp), which recently got scolded by none other than Russian-Canadian programmer Vitalik Buterin, is one of them.
Ponzi schemes rule the roost on Ethereum
In July, the Philippines' SEC cracked down on Forsage, denouncing it as a potential Ponzi scheme since it was actively recruiting new investors who were promised stable residual income.

Those behind the "matrix marketing project" were unfazed by the regulatory scrutiny since the permissionless and decentralized nature of blockchain prevents the SEC from shutting down the app.

As of now, the high-risk dApp is still consuming 10 percent of the Ethereum network, with the total amount of ETH sent to Forsage surpassing $192 mln.
Other frauds, such as Soviet-style MMM, are also hogging the blockchain's capacity.

"Playing the victim card"
Buterin himself made an effort to root out the weed that is clogging up the network by calling out the sham on Twitter.

The Ethereum co-founder compared Forsage to such notorious cryptocurrency scams as OneCoin and Bitconnect that relied on new investors' funds to support previous backers. Once there is no fresh money, people lose everything.

In response, the company's representatives accused Vitalik of "whitewashing" Ethereum and "playing the victim card" while crediting itself for bringing new users to the network and driving transaction fees.