Blockstream CEO Adam Back, who was quoted in the Bitcoin white paper, has once again lashed out at Ethereum, claiming that it's a "scam" because 70 percent of ETH was pre-mined.

Back also compared other prominent cryptocurrency projects, namely Cardano and Ripple, to high-yield investment fraud Bitconnect, jailed con man Bernie Madoff who masterminded the largest Ponzi scheme in history and Ruja Ignatova's OneCoin.
From Theranos to Bernie Madoff
This sort of infighting within the cryptocurrency community is nothing new, and Bitcoin maximalists do not mince words when it comes to some prominent altcoin that risks the chipping away of the king's dominance.
Last November, Back and Bitcoin Core developer Peter Todd drew parallels between Ethereum and biotech disaster Theranos, whose disgraced founder, Elizabeth Holmes, is likely to have her trial delayed until 2021.

Todd claimed that both Theranos and numerous crypto projects were "covering up" what their tech could actually do:
Theranos was a successful scam because they really were developing new technology. The scam was in lying about what that technology could actually do and covering up failures. So much of blockchain tech does this: ETH, Teechan, Tierion, Ripple, even Zcash to a degree.

Not the best month for Bitcoin maxis
Ethereum has been vastly outperforming Bitcoin for the past two weeks due to the DeFi hype, thus putting a huge dent in the narrative that the quadrennial supply cut that took place in May is behind the recent crypto rally.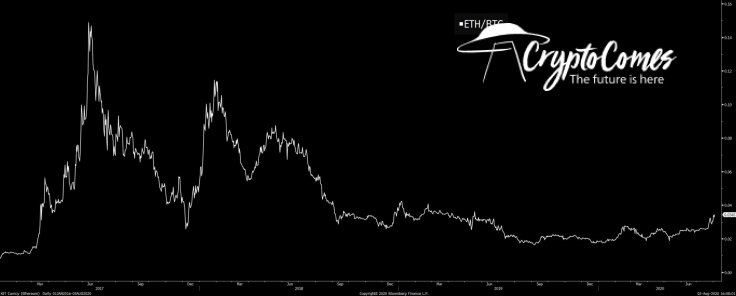 Image by @TheStalwart
As reported by CryptoComes, Cardano recently completed its much-awaited Shelley launch. IOHK CEO Charles Hoskinson claimed on the verge of the release that it would eventually end up becoming the best cryptocurrency "bar none."

Meanwhile, XRP, the token associated with controversial blockchain company Ripple, is also gradually coming back to life.
While this may not have been the best month for Bitcoin maxis, it is not as bad as the peak of the crypto bubble in January 2018, when Bitcoin's market share slipped 32 percent and the Ethereum/Bitcoin "flippening" narrative became pervasive in the crypto space.