Over-the-counter crypto trading (OTC) may be among the first victims of a new Chinese anti-money-laundering policy. Since credit cards are pivotal elements in illegal crypto operations, a nationwide crackdown on them may heavily affect the cryptocurrencies sphere.
OTC crypto deals in China are under attack
Well-known blockchain journalist and insider Colin Wu indicates the unexpected effects of new law enforcement practices by Chinese officials. Their "card breaking campaign" that targets telecom fraud and money laundering may destroy the key element in the shady OTC brokerage.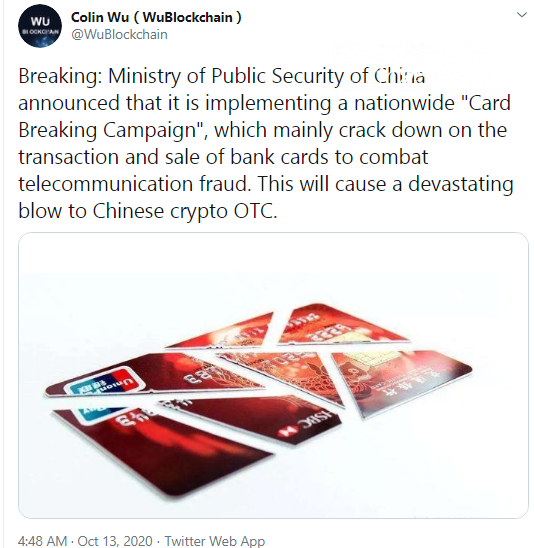 Image via Twitter
In China, credit cards are widely used in money smuggling operations. Thus, the restriction of the procedure of cards borrowing and purchasing may badly affect the OTC segment.
According to Mr. Wu, some influential figures in the Chinese OTC market are already imprisoned. For instance, he confirms the arrest of Zhao Dong, the nation's largest OTC player, partner of Binance OTC and shareholder of Tether Limited.
The community should expect many more arrests since 155,000 "telecommunication fraud" cases have been cracked by the government with almost 100 bln CNY frozen (about $15 bln). Compared to the 2019 level, these figures are up more than 60 percent.
In long run, effects may be positive
However, Mr. Wu is optimistic about the prolonged effects of this aggressive crackdown on the progress of cryptocurrencies in China. Average investors that are far from money laundering and large-scale OTC brokerage may benefit from it:
Nationwide crackdown may reshuffle the Chinese OTC industry, but preventing black money from entering the exchange is not a bad thing for ordinary investors.
However, in close periods, crypto merchants in PRC may experience some issues with withdrawals. Draconian regulatory initiatives in China immediately lead to the massive restriction of bank accounts.
Colin Wu is focused on blockchain and crypto-related processes in China that is mostly unexplored by the Western blockchain community. He delivers crucial insights on trading, mining, regulation and more. Recently, he slammed the "wannabe" approach of Alipay activity in terms of blockchain patents.
Also, as covered by CryptoComes previously, Mr. Wu dismissed misunderstandings about "Bitcoin advertising on CCTV."