Bitcoin's energy excessive power consumption has once again become a hot topic in the crypto community, with LazyLedger co-founder Mustafa Al-Bassam claiming that Bitcoin uses 0.21 percent of the world's total energy supply in a tweet.

In reality, the world's biggest cryptocurrency only consumes a minuscule 0.038 percent of all energy, as noted by Christopher Bendiksen, head of research at CoinShares.
An anti-Bitcoin narrative
You might have seen flashy headlines about Bitcoin being at a huge energy hog.
The BBC article, which says that BTC needs more power than Switzerland, is where the 0.21 percent figure cited by Al-Bassam.
Facts, however, tell a different story. According to the Cambridge Bitcoin Electricity Consumption Index Bitcoin's annualized energy consumption is slightly under 60 TWh. Considering that the world consumed 160,000 TWh back in 2019, this means is so far responsible for only 0.038 percent of this figure, as estimated by Bendiksen.

As reported by CryptoComes, Blockstream CEO Adam Back, who's known for being cited in the Bitcoin white paper, likened Ethereum to some infamous Ponzi schemes.

As Ethereum is getting closer to its massive proof-of-stake (PoS) upgrade, its proponents jump on the opportunity to spread fear, uncertainly, and doubt (FUD) about the proof-of-work consensus (PoW) algorithm.
The energy-backed currency
In his op-article, CoinMetrics founder Nic Carter noted that those who are eager to criticize Bitcoin tend to forget how much energy is consumed by Christmas lights or data centers that belong to tech giants.
"It's clear that because Bitcoin's footprint is so easy to quantify — and an object of revulsion among the chattering classes — it is singled out for special treatment."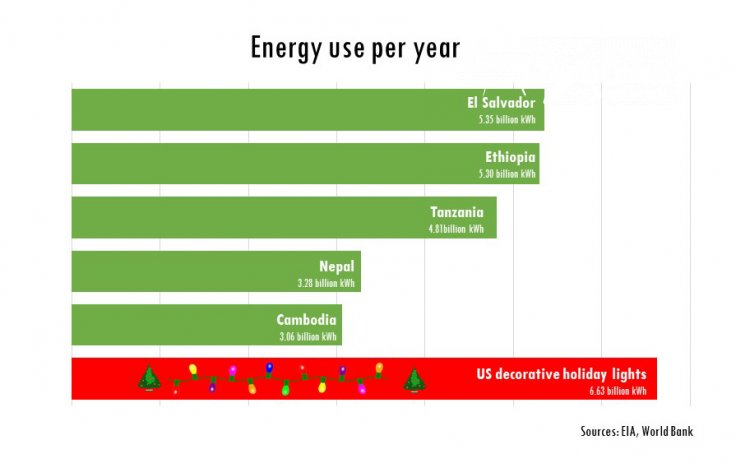 image by cgdev.org
Moreover, if it wasn't for Bitcoin, excess energy would end up getting wasted, which is exactly why miners increasingly rely on flared gas.
The amount of computational power used by Bitcoin and its cost determine the intrinsic value of the flagship cryptocurrency, according to JPMorgan's calculations.
Bitcoin could be the energy-backed currency that Henry Ford envisioned a century ago.