San Francisco-based cryptocurrency exchange Coinbase has made a foray into cryptocurrency lending by announcing Bitcoin-collateralized loans in its Medium blog post.

Residents of seventeen U.S. states will soon be able to borrow up to 30 percent in USD against the total value of BTC deposited to the exchange.
Fast money
Coinbase customers who are eligible to take out a loan can join the waitlist. The new feature will become available this fall.
Bitcoin-backed loans will come in handy for those who have urgent cash expenses, such as auto repair services.

By posting BTC as collateral, there will be no need to cash out your actual crypto holdings:
With portfolio-backed loans on Coinbase, customers can borrow cash quickly from their Coinbase accounts. No need to fill out a long application or go through a credit check. Customers can simply sign up with a few taps and get the cash in their accounts within 2–3 days.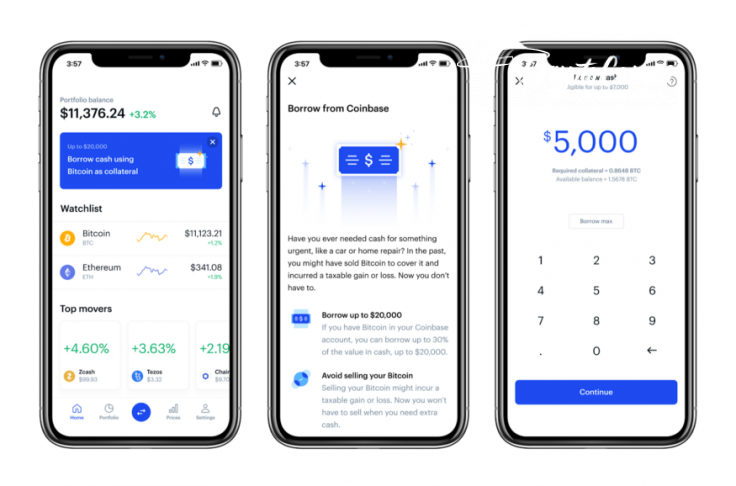 Image by blog.coinbase.com
Borrowers will be charged with an 8 percent interest rate for borrowing USD for up to a year.

A crowded market niche
The $8 bln company with an enormous user base will likely chip away at the market share of cryptocurrency businesses such as BlockFi, Celsius and Unchained Capital, as well those companies that offer traditional high-interest loans.

Coinbase's archrival, Binance, recently ventured into this line of business, making it possible to borrow stablecoins such as BUSD and USDT after partnering with lending firm Cred in April 2019.

Yesterday, Square's Bitcoin-friendly CashApp also started testing short-term loans limited to $200, according to a statement:
We are always testing new features in Cash App, and recently began testing the ability to borrow money with about 1,000 Cash App customers. We look forward to hearing their feedback and learning from this experiment.