According to Square's shareholder letter, its Cash App raked in $875 mln worth in Bitcoin revenue in the second quarter, which represents a 185 percent increase over the previous quarter.

Its gross profit from BTC over the aforementioned period constituted $17 mln (up 153 percent from the previous quarter).
Bitcoin revenue and gross profit benefited from an increase in bitcoin actives and growth in customer demand.
The main revenue stream
Q1 became an inflection point for Square since it was the first quarter in which the company's Bitcoin-related services topped fiat ones in terms of revenue.

Back then, the Jack Dorsey-helmed company made $306 mln in Bitcoin (a 72 percent share of the $528 mln sum).
This time around, the bellwether cryptocurrency took the same piece of the pie percentage-wise: $875 mln out of $1.2 bln.
In Q2, Square's total net revenue jumped 64 percent on the year-over-year basis. Bitcoin-related revenue increased by a staggering 600 percent in one year.
In the second quarter of 2020, total net revenue was $1.92 billion, up 64% year over year, and excluding bitcoin revenue, total net revenue was $1.05 billion, flat year over year.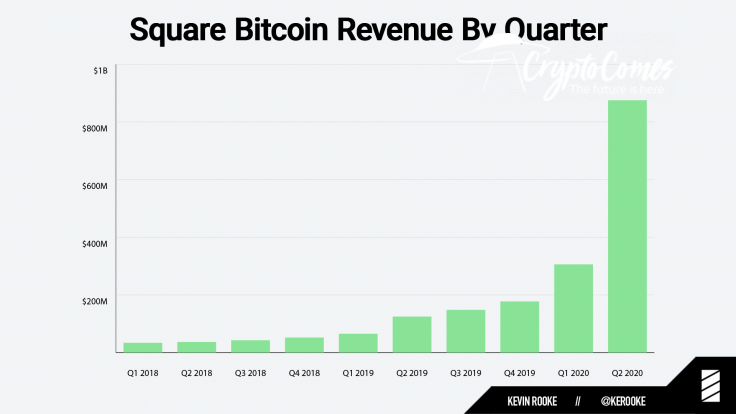 Image by @kerooke
However, while profits from Bitcoin increased 153 percent, they still represent only a drop in the bucket compared to Cash App's fiat-based services, which are responsible for the lion's share of the $231 million gross profit.
Cash App delivered strong growth in the second quarter of 2020, generating $1.20 billion of revenue, and $281 million of gross profit, which increased 361% and 167% year over year, respectively.
PayPal and Venmo to follow suit
Overall, Cash App witnessed a 25-fold increase in Bitcoin volume since it debuted support for the top crypto in Q1, 2018.

PayPal and Venmo are expected to follow Square's lead by reportedly launching their own cryptocurrency-focused features later this year.