San Francisco-based blockchain company Ripple has been recognized as one of the most innovative workplaces in the world by American business magazine Fast Company.

It has made the cut together with such juggernauts as Google, Amazon, and Intel.
Innovating and disrupting
Ripple, which occupies 97th place, is the only company from the cryptocurrency industry that appears on Fast Company's second that applauds most innovative workplaces.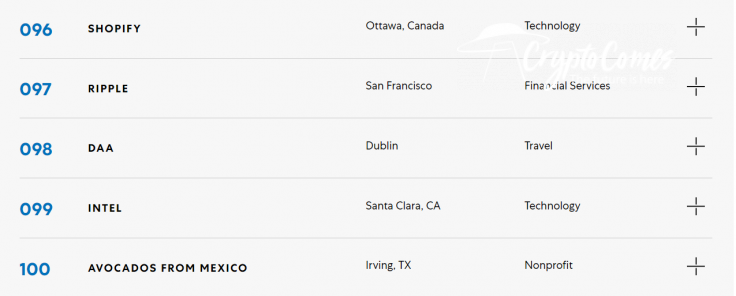 image by fastcompany.com
Back in 2018, Ripple introduced University Blockchain Research Initiative (UBRI), committing $50 mln to some of the world's top universities to fund blockchain-related research. This appears to be the main reason behind the acknowledgment.
Overall, there are 12 financial companies, including Mastercard, Square, and PayPal.

Earlier this year, Ripple also made a debut on CNBC's Disruptor 50 list for using crypto for facilitating money transfers.

Non-profits rank higher
It is worth noting that Rippleworks, the non-profit foundation started by former Ripple CEO Chris Larsen in 2015, took 74th place. It uses XRP funds to provide entrepreneurs with grants and loans to scale their businesses.

Back in March, Ripple formed a partnership with Rippleworks to work on powerful initiatives.
The top honor was received by American Lebanese Syrian Associated Charities (ALSAC), yet another non-profit organization that battles childhood cancers and pediatric illnesses.