Yesterday, Sept. 7, Bitcoin (BTC) bears failed once again to push the flagship cryptocurrency below the crucial $10,000 mark. Some pundits claim this may indicate the likelihood of a bullish reversal. However, according to Willy Woo, Bitcoin (BTC) whales have not even noticed the September pullback.
Money injection coincides with a wave of whale accumulation
In his recent tweet, prominent analyst Willy Woo has compared net Bitcoin (BTC) whale holdings with the dynamics of the Fed's cash injections to the circulating USD supply. He drew on data from Glassnode, a leading on-chain data vendor.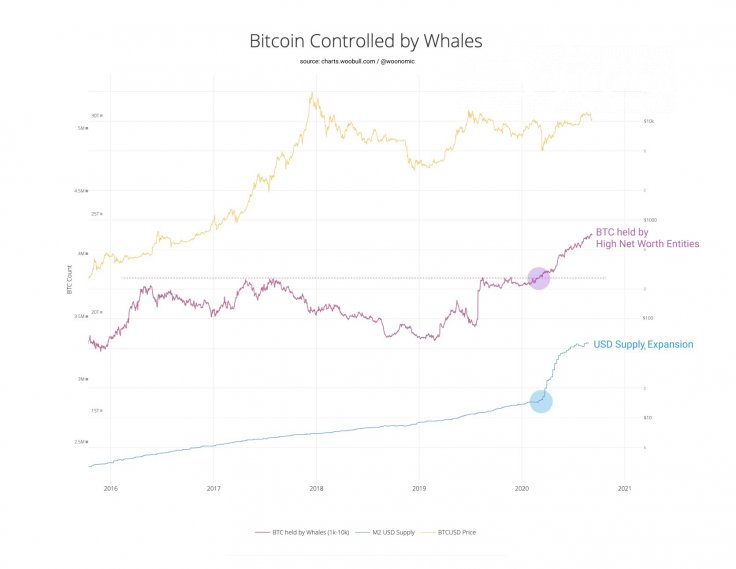 Image by Willy Woo
According to Woo, the entity that controls between 1,000 and 10,000 Bitcoins (BTC) via a single account (wallet) should be considered a Bitcoin (BTC) whale.
Woo explained that, at the start of "quantitative easing" by the U.S. Fed in Q2, 2020, coincided with the upsurge in net whale Bitcoin (BTC) allocation. Neither Black Thursday nor the recent sell-off has managed to stop Bitcoin (BTC) whales from accumulating. Meanwhile, the bloodbath of March and April slowed down this process.
That said, the seasoned researcher interpreted these dynamics as one additional proof of the "Bitcoin-as-a-hedge" bullish narrative:
High net worth individuals and funds certainly consider it to be true and betting on that with real money. Since this latest round of USD money supply expansion, whales entities have increased their holdings of BTC markedly.
Serious challenge for bullish sentiment
Alongside that, some analysts who detected tremendous energy by Bitcoin (BTC) hodlers in 2020 have been scared by how the community reacts to the ongoing volatility spike.
For instance, Glassnode CTO Rafael Shultze-Kraft, who has repeatedly praised the aggression of hodlers during the turbulent year of 2020, showed on-chain metrics that reveal anxiety on the part of Bitcoin (BTC) "strong hands."
As covered by CryptoComes recently, a double-digit drop in the Bitcoin (BTC) price reflects the sell-offs initiated by top-tier miners.
A few hours before the price decline, Ki Young Ju, CEO of CryptoQuant on-chain analytics vendor, displayed significant outflows of Bitcoin (BTC) from Poolin, Slush Pool and Hao BTC.