In spite of a recent price rally, strong hands are not leaving the market, according to Glassnode data.

The firm states that holders have been accumulating more than 50,000 BTC every month since March.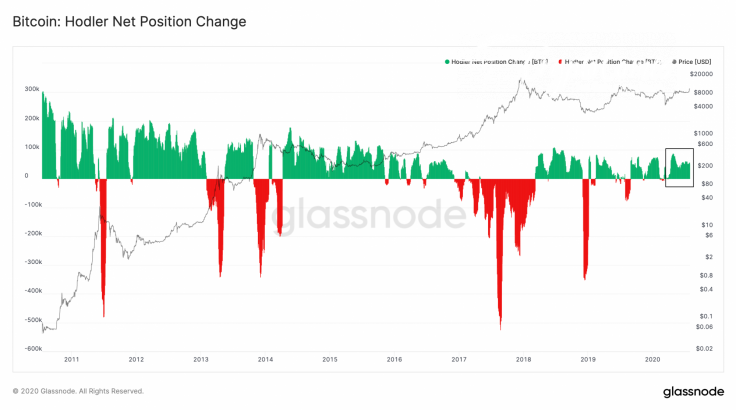 image by @glassnode
Watching the whales
For gauging the market's sentiment, Glassnode uses the Hodler net position change metric that was first introduced by hedge fund Adamant Capital.
As explained in the fund's blog post, it makes it possible to find out when whales start moving pieces the metaphorical chess board.
When the net position change turns negative, it means that holders started to cash out their gains, which typically happens throughout bull markets.

Conservatively, whales tend to hoard more coins during bear markets to accumulate more long-term holdings.
"We see that significant quantities were cashed out during bull markets of Bitcoin, and net new positions were accumulated by HODLers in bear phases."
However, it is worth noting that significant changes can be also attributed to exogenous factors such as hard forks or exchanges shuffling their coins. The Bitcoin Cash hard fork that occurred in August 2017 is a salient example:
"Every Bitcoin private key gave access to an equivalent amount of BCH as the BTC in that wallet. And so with BCH rallying strongly — at some point reaching over 20% of a BTC — Bitcoin HODLers were incentivized to split the two via on-chain transactions and either buy more."
18,000 Bitcoin millionaires
Following Bitcoin hitting its nine-month high of $11,400 on July 27, the number of Bitcoin millionaires rose by 38 percent to 18,000.

This, however, is a drop in the bucket compared to the total number of millionaires in the U.S. that exceeds 18.6 mln (among 46.8 mln in the world).