Rafael Shultze-Kraft, Chief Technical Officer of Glassnode's on-chain data vendor, excited his followers with a tweetstorm. It showcased how powerful Bitcoin (BTC) hodlers (long-term confident holders) are right now.
Hodlers Gonna Hodl
First of all, Mr. Shultze-Kraft demonstrated the number of coins that haven't moved in the last one to three years. According to his statistics, 61% of the Bitcoin (BTC) supply has been dormant for at least 12 months, while one in three Bitcoins (BTC) hasn't moved since 2017, the year of its all-time high (ATH).
8/ In fact, HODLers are heavily accumulating in 2020: There have been only 16 days since the beginning of this year, in which the #BTC Hodler Net Position Change has been negative.

HODLers doing what they do best.

(again h/t @TuurDemeester and @Adamant_Capital for the metric) pic.twitter.com/JbAAbH8Pfi

— Rafael Schultze-Kraft (@n3ocortex) June 26, 2020
Some of his statistics chart a new metric called 'Coin Days Destroyed', an integral indicator of Bitcoin (BTC) wallet activity, has inched to an all-time low.
He added that Bitcoin (BTC) holders are heavily accumulating this year. According to this metric, which was proposed by macro analyst Tuur Demeester of Adamant Capital, there have been only 16 days (since the beginning of this year) when the net position of Bitcoin (BTC) holders' was reduced.
Mr. Schultze-Kraft treated the last fact as evidence of hodlers' aggression:
HODLers doing what they do best.
Hashrate Has Gone Through the Roof
The Glassnode CTO also admitted that the rapid outflow of Bitcoin (BTC) on exchanges may be partially explained by the same aggression of hodlers. Bitcoin (BTC) velocity, the speed at which coins circulate, is moving closer to its ten-year lows.
So, the engineer concluded that these processes made him very optimistic about the prospects of Bitcoin's price:
Don't let yourself get distracted by short-term price action – and always remember to zoom out and look at the bigger picture.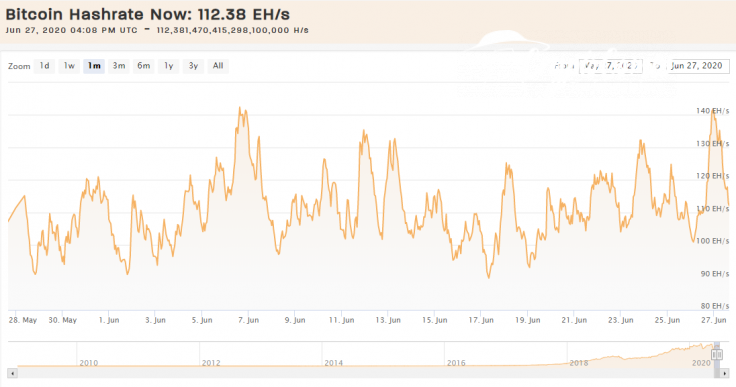 Image by CoinWarz
It should be also noted that the hashrate of Bitcoin (BTC) skyrocketed to an insane level of 141.6 EH/s yesterday, on June 26th. This is a new all-time high: the flagship blockchain has never been so secure.