The confidence of Bitcoin (BTC) whales (the richest wallets on the flagship blockchain) is typically considered one of the most powerful catalysts of the ongoing crypto bull run. However, the sentiment of "fat cats" does not look so obvious for on-chain analysts.
Bitcoin (BTC) whales stopped withdrawing assets from exchanges
Seasoned on-chain analyst Ki Young Ju, CEO of CryptoQuant on-chain research firm, announced that Bitcoin's (BTC) recent failure to break above the $20,000 level may have changed the dominant narrative of Bitcoin (BTC) whales.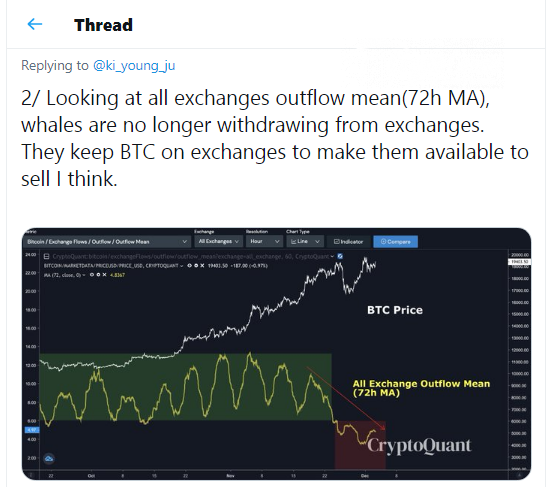 Image via Twitter
For some reason, whales are interested in keeping their Bitcoins (BTC) on exchanges. By contrast, retail investors are not making profits at the current price levels. Thus, the magic zone above Bitcoin's new ATH is the place where their interests clash.
At the same time, miners are massively selling their rewards to exchanges, which is another powerful catalyst of selling pressure.
These factors, accompanied by another "All Exchange Inflow Mean" indicator spike over 2.2 Bitcoins per block, may tell market participants about the developing anxiety of whales.
Effect of the "Thanksgiving massacre?"
Meanwhile, Mr. Ki Young Ju did not change his bullish estimations about the mid-term price performance of Bitcoin (BTC). The ongoing lack of confidence demonstrated by whales can only trigger a correction or sideways action.
As covered by CryptoComes recently, the "All Exchange Inflow Mean" indicator by CryptoQuant analysts brilliantly reflected the aggression of sellers on Black Friday. The whale-driven process of moving money to exchanges brought this ratio over 2.5 Bitcoins per block.
Mostly, in 2020, whales demonstrated confidence in the flagship cryptocurrency. Another top-notch analytical team, Glassnode, confirmed this fact with multiple indicators.