Bitcoin (BTC) whales' behavior is often referred to as a reliable indicator of upcoming market moves. Ki Young Ju, founder and CEO of the CryptoQuant on-chain analysis startup brings alarming news for Bitcoin (BTC) bulls.
Whales are moving Bitcoins (BTC) to exchanges
Today, Nov. 27, amidst the bloodiest Bitcoin (BTC) meltdown since Black Thursday (March 13), the richest whales of the first blockchain continued moving their coins to centralized exchanges. Ki Young Ju reports that the All Exchanges Inflow Mean derived from the last 144 blocks is in the danger zone.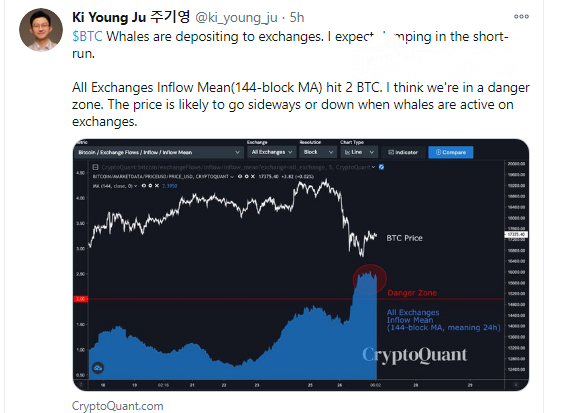 Image via Twitter
It means that Bitcoin (BTC) whales deposit more that 2 Bitcoins (BTC) per block, or roughly every 10 minutes. This indicator even touched 2.5 BTC levels during the periods of maximum whale activity.
Meanwhile, numbers over 2 BTC are interpreted as "dangerous" by CryptoQuant. For the first time, the All Exchanges Flow Mean crossed this level when the Bitcoin (BTC) price dropped below $17,000 on Nov. 26.
This indicator upsurge may demonstrate the incoming selling pressure on Bitcoin (BTC) markets. Amidst an impressive rally from $17,000 to $19,000, it sat below 1 BTC, or down almost 50 percent compared to actual numbers.
"Thanksgiving Decimation" brought record-breaking liquidations
The outflow of Bitcoins (BTC) from the OKEx exchange that resumed withdrawals after a seven-week pause may be another catalyst of the "selling pressure." CryptoQuant noticed that more than 24,000 Bitcoins (BTC) left OKEx's treasury on Nov. 26.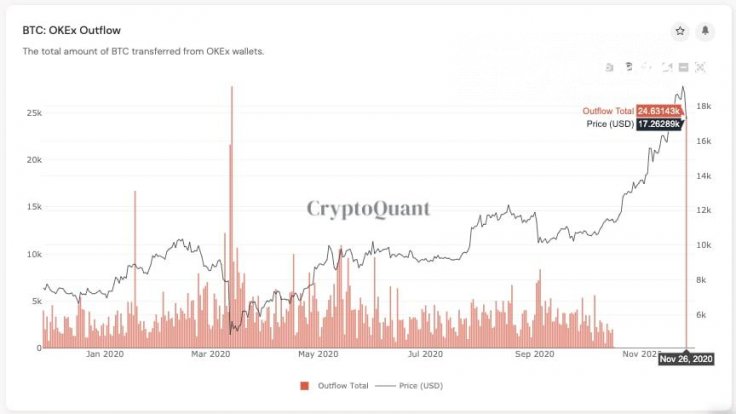 Image by CryptoQuant
A dramatic overnight Bitcoin (BTC) drop from the local high at $19,500 to $16,800 (an almost 14 percent drop) resulted in massive liquidations that resemble the March 13 carnage.
According to Cryptometer.io service, Binance Futures has $323.7 million in longs and $37.8 million in shorts liquidated, while BitMEX witnessed $120.4 million and $6.5 million liquidated, respectively.
To provide some context, during the evangelic 60 percent drop in the Bitcoin (BTC) price in March, the entire amount of liquidations across all Bitcoin (BTC) derivatives platforms was estimated at $1.9 billion.