Cryptocurrencies researcher Ki Young Ju issued a warning about the possibility of a "boring" end of 2020 for the flagship cryptocurrency. Bitcoin (BTC) markets are dominated by two totally separate processes, as displayed by centralized exchanges outflows data.
Bitcoin (BTC), stablecoins are leaving exchanges
According to the CryptoQuant CEO, both Bitcoin (BTC) and stablecoin balances on centralized exchanges are declining. Thus, sellers and buyers look satisfied about their ongoing positions, and two main vectors of pressure on Bitcoin (BTC) are losing steam.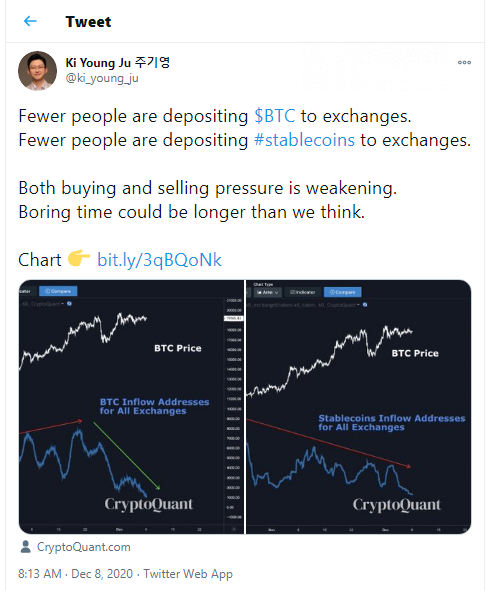 Image via Twitter
While the declining trend for stablecoins has affected the power of Bitcoin (BTC) bulls since late October, the drop of Bitcoin (BTC) inflows to exchanges is a relatively new tendency.
Bears and miners have been sending BTC to exchanges aggressively since early October. Their activity calmed down only after Bitcoin (BTC) revisited its all-time high.
As covered by CryptoComes previously, the inflow of Bitcoins (BTC) to exchanges in October and November was attributed by CryptoQuant to whale-driven movements.
Meanwhile, in December, whales' sentiment changed and they stopped sending Bitcoins (BTC) to centralized trading platforms.
On-chain analysis proved itself a reliable instrument for Bitcoin (BTC) markets in 2020
In Q4, 2020, all major Bitcoin (BTC) price moves were reflected by on-chain analysis metrics. For instance, the "All Exchanges Inflow Mean," i.e., the number of Bitcoins (BTC) sent to exchanges per one block, indicated dangerous "selling pressure" over two BTC/block.
Also, the Miners Position Index is useful for the research of miners' sentiment. Its upsurge typically reflects one more source of selling pressure.
According to Mr. Ki Young Ju, the two latest Bitcoin (BTC) attempts to conquer the $20,000 level should be thought of as battles between long-term holders and excited retail investors. While Bitcoin OGs were taking profits, newbies did their best to catch the last ride.