Venture capitalist Tim Draper has riled up the Bitcoin community by tweeting out support for the controversial Bitcoin Cash (BCH) cryptocurrency.

Apart from BCH, Draper also praised its most fervent supporter Roger Ver and his Bitcoin.com website that remains one of the biggest crypto-related portals.
"I hope you're hacked"
Draper, who accrued a huge fortune because of his early investments in Skype, Tesla, and other prominent companies, became the first ardent Bitcoin cheerleader in Silicon Valley.

He got into crypto back in 2014 by winning the action of 30,000 BTC confiscated from the now-defunct Silk Road exchange.

Throughout these years, Draper remained a vocal Bitcoin advocate, going as far as claiming he would make it America's national currency if elected president.
Calling BCH innovation and praising Ver, however, off-limits for some Bitcoiners. Stephen Cole of the OC Bitcoin Meetup says that Draper's credibility is gone while hope that someone simply hacked Draper's account.
BCH, a hard fork of Bitcoin that threatened to undermine the dominance of the original chain in 2017, is having quite an underwhelming 2020. On top of plunging 25 percent against BTC, it is facing its second chain split in November.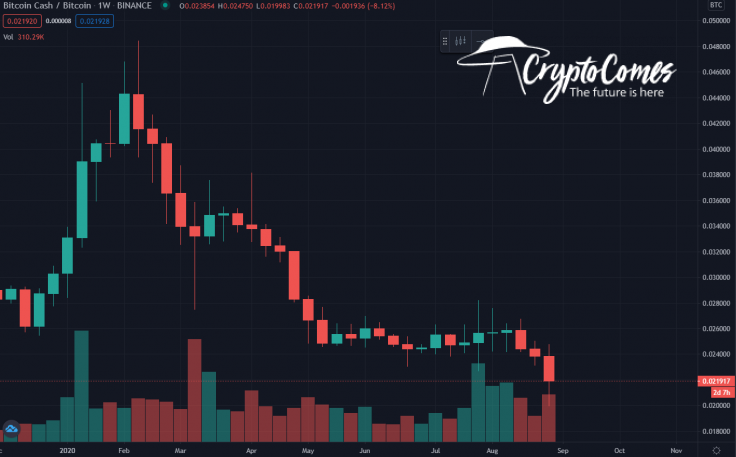 Image by tradingview.com
No surprises here
The backlash seems rather unnecessary given that Draper never positioned himself as a Bitcoin maximalist.

In December 2019, he opined that Bitcoin would still have the largest market share because of its brand but the billionaire also noted that BCH had "some bright people" working on it:
I think that's got a lot of potential. Some of these other forks, maybe, not so much.
In fact, he also started investing in Ethereum back in 2016. However, he did voice his concerns about the coin's issuance policy during his July interview.