For fear of the nascent crypto industry putting them out of business, many global banks are launching their own blockchain-based funds transfer systems that sometimes involve their newly created native crypto coins.
JP Morgan's JPM coin is a good example of that approach. Since Ripple with its XRP is believed to be the major rival of banks and SWIFT, banks often try to compete with this crypto giant. However, in the case of Bank of America, the patent says that the new payment transfer system is based on Ripple's DLT.
Bank of America's patent
Data that comes from Google Patents says that recently Bank of America has submitted a patent for a system that would enable it to conduct much faster payments than before. The Ripple ledger is cited in the documents, thus making the new wire transfer platform based on it.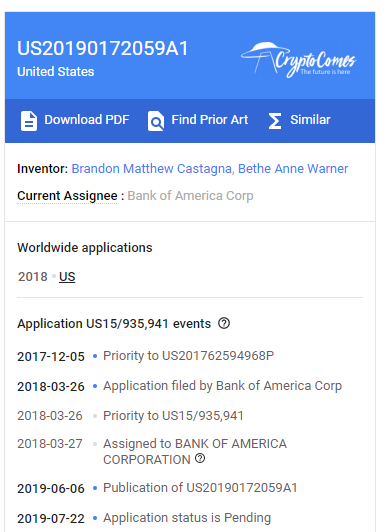 https://patents.google.com/
The patent was published online on June 6 and it says that the new transfer system (made as a communication instrument between banks) is based on a blockchain. All banks included in the system will be able to access it.
The patent says that the new DLT system will make a verification of the sender and the receiver's identities. The patent explicitly cites a DLT developed by Ripple. However, the native coin XRP is not mentioned.
Thailand denies using XRP
Last month, it was reported that Thailand's Siam Commercial Bank denied any intentions of possible utilization of XRP token, even though rumours earlier suggested the opposite.