The cryptocurrency market has entered a downtrend movement after a week dominated by bulls. Respectively, all top assets are facing a deep correction.
The biggest 'gainer' is Binance Coin (BNB), whose rate has dropped by only 5.81% over the night, while EOS is losing more than 20% of its price. Thus, the market dump has affected on total market capitalization which has reduced by around $40 Bln.

Cryptocurrency market capitalization by CoinMarketCap
Today's decline have fixation of gained positions, which has also influenced BTC's dominance rate, keeping at its high levels. It means that traders are not switching to altcoins.
BTC/USD
After the touching $13,000 on some exchanges, the rate of Bitcoin has sharply gone down, having lost around 15% over the less than 24 hours. However, nothing critical happened - the leading cryptocurrency came back to the level, what we saw three days ago.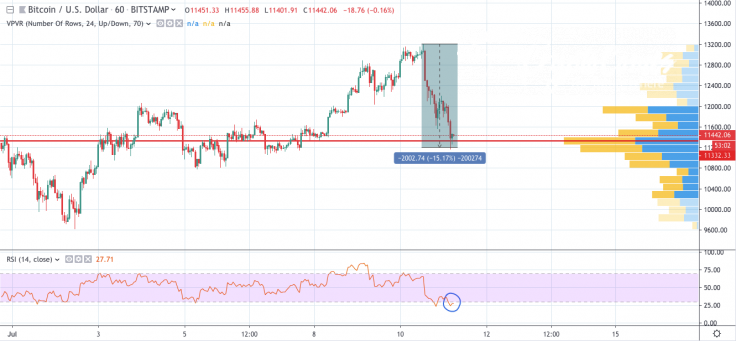 BTC/USD chart by TradingView
On the hourly chart, Bitcoin is struggling a bounceback after new levels have been reached. The current price can be considered a dump, rather than the upcoming of bearish tendencies. Moreover, this correction is needed for the confirmation of a prolonged bullish trend. In addition, the RSI indicator is about to break the oversold zone, suggesting a nearest reversal.
The price of BTC is trading at $11,442 at the time of writing.
ETH/USD
Ethereum is trying to keep up with Bitcoin. However, ETH rate is declining faster. Currently, one of the top altcoins is losing 12% compared to its yesterday level.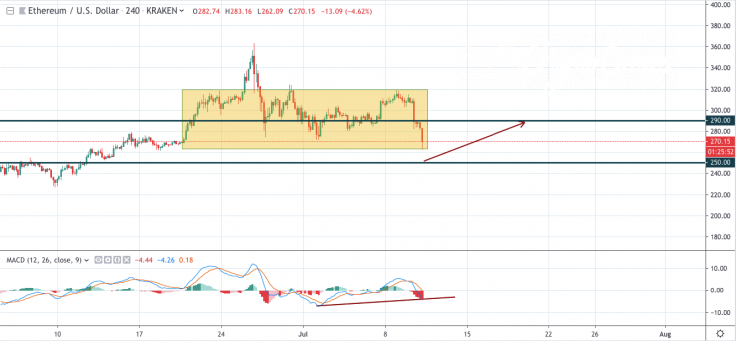 ETH/USD chart by TradingView
Even though the price of Ethereum has gone deeper than of Bitcoin, nothing as changed in the long-term scenario. The asset remains dominated by bulls until $250 is broken, and the MACD pattern confirms it. In this regard, we are likely to expect a bounce back from the current levels to the nearest resistance at $290.
At the time of writing the price of ETH is trading at the level near $270.
XRP/USD
Ripple can be considered as the biggest loser out of the top 3. XRP rate has dropped more than 15% over the previous day.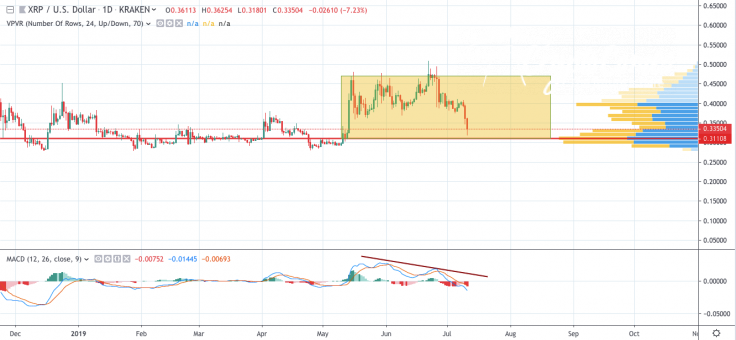 XRP/USD chart by TradingView
If the current market dump is a pause before a run for Bitcoin and Ethereum, the situation is much worse for Ripple. According to the chart, the rate rolled back to the levels of the mid-May, having confirmed the absence of a potential bullish trend, which is also backed up by the bearish MACD indicator. In terms of the price prediction, XRP is likely to locate in the yellow corridor, fluctuating between $0.31 and $0.47.
The price of XRP is trading at $0.3343 at the time of writing.