Bitcoin Cash and EOS, the two top 10 altcoins, plunged by more than 20 percent, according to data provided by CoinMarketCap. While the Bitcoin price also shed 10 percent, its dominance remains well above 65 percent.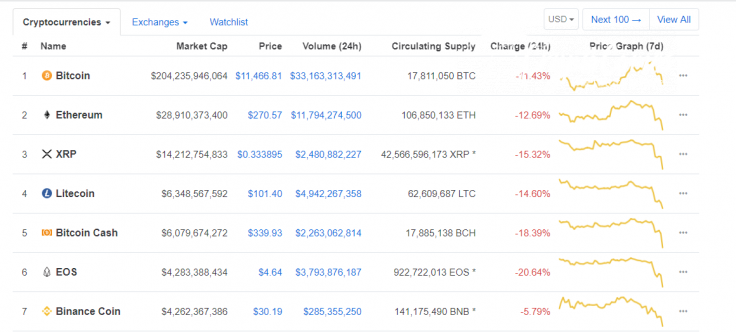 Image by CoinMarketCap
Alt season is not coming
The two aforementioned altcoins are the biggest disappointments so far, but XRP and Litecoin are pretty much on the same page — both are in the double-digit territory.

XRP is currently trading at $0.33 after breaking below multiple support levels. Ripple's native token will face major resistance at the $0.35 level.

Litecoin, on the other hand, has slipped below $100 for the first time since May as its halvening momentum is gradually losing steam.

As of now, Crypto.com Chain is the only large-cap coin that remains in the green despite the overwhelming market rout.
Altcoins that perform well during turbulent market days, when most other coins are red, are coins that I look at potentially investing

Of course, there are a lot of variables and the market isn't exactly at the altcoin buying stage yet with BTC dominance high

Hope this helps

— Josh Rager 📈 (@Josh_Rager) July 11, 2019
July has more potential
As predicted earlier by cryptocurrency trader Josh Rager, the BTC price will continue seesawing in the $11,000-$13,000 range before another major breakout that is expected to happen by the end of July.

The launch of physically delivered Bakkt futures is slated for July 22, and it is supposed to be a major catalyst for Bitcoin.

However, the cloud of legal uncertainty that is hovering above Bitfinex and Tether could put a spanner in the works for the bulls.