On Monday, Bitcoin price slid under the psychological level of $10,000, making it a 28%-loss from the recent high of slightly below $14,000. At press time, Bitcoin is sitting at $10.176, reversing a little.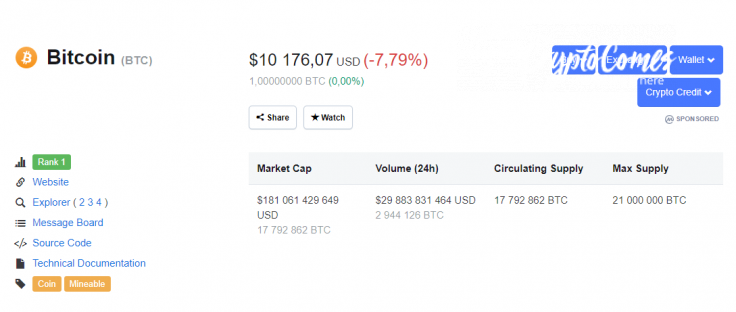 CoinMarketCap.com
The crypto market was already anticipating BTC to move forward to break through the $15,000 level, targeting the 2017 ATH of $20,000 as the next aim. However, multiple experts have warned that a price correction is unavoidable.
Bitcoin going under $10,000 is good: Mati Greenspan
The chief analyst of eToro describes the Bitcoin price move downward from the high of $13,879.24 reached last week as a positive thing. As per him, it was:
A bucket of ice water that was dumped on the anxious crypto market, which was indeed getting a bit too hot.
As per the recent Forbes article, several other experts are also commenting on the BTC drop below $10,000 in a similar way. Among them is John Todaro, head of crypto research at TradeBlock. He reckons that this pullback 'is providing a much needed breather.'
BTC quotes have got to be overheated lately, since the price was growing too fast, as per him, so the current price reverse is good for the market.
A 'healthy' price correction arrives
Another crypto expert, the CEO of BitBull Capital, Joe DiPasquale, believes that the current price retracement is good since it stops the BTC price from rushing un unreasonably.
The pull backs are healthy and are preventing an unreasonable climb.
He adds that since altcoins are not losing so much in value as Bitcoin, this is a good sign, since traders are not getting out of crypto, but are just spreading their funds along portfolios to strike a better balance.
He expressed a hope that the volatility would remain on a relatively low level.