OMG, native asset of the OMG Network (previously OmiseGo), is among the top gainers on major spot trading platforms today, Aug. 19. It appears that there is one meaningful technological progress announcement behind this upmove.
Tether (USDT) integration on OMG Network is up and running
Today, OMG Network Token (OMG) surged almost 30%. The asset is rallying over the last seven days: its combined growth surpasses 100% as it pumps from $1.67 to $3.31.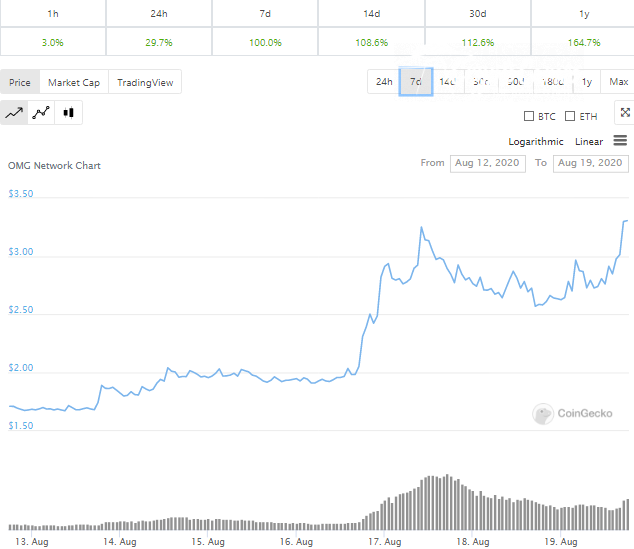 Image by Coingecko
It has been announced today that OMG integration on Bitfinex is live. It means that all transfers of ERC-20 U.S. Dollar Tether (USDT) by Bitfinex users are sent via OMG Network Plasma infrastructure.
Thus, USDT transactions migrated from Ethereum (ETH) mainnet. It allows for a significant reduction in the latency of transactions. Also, Bitfinex clients now may save on gas costs.
Plasma is a side-chain solution for Ethereum (ETH) scalability. With Plasma, the transactional data is partly processed off-chain. It allows for the unloading of the Ethereum (ETH) mainnet. Plasma is one of the most popular instruments for Ethereum (ETH) network scalability.
One release, two pumps
According to the official announcement by the Tether team, this novelty will reduce congestion on the Ethereum (ETH) blockchain and prevent dramatic collapses. The last collapse occurred on Black Thursday in March, and it almost paralyzed the DeFi ecosystem.
It is worth noting that the announcement about the start of this integration published on June 1 also caused an impressive double-digit pump of OMG.
Since this announcement, the importance of Bitfinex-OMG integration has become more crucial due to the expanded emission of USDT on Ethereum (ETH) and surging trading volume on the top centralized platforms.