According to an announcement shared by the Tether (USDT) team, the most popular stablecoin in the entire crypto realm, Q2 and Q3, 2020, were periods of explosive growth.
$12 Bln in market capitalization is a new milestone for USDT
In its recent tweet, Tether Limited—the creators and maintainers behind U.S. Dollar Tether (USDT)—celebrated the impressive run of its capitalization and breathtaking dynamics of the past five months.
Tether has just surpassed a $12 billion market capitalization! 🎉

Since March 2020, Tether's market cap has increased 140% from $5 billion, maintaining it's number one spot as the most liquid & trusted stablecoin! pic.twitter.com/JAmw9d1iDs

— Tether (@Tether_to) August 14, 2020
As per their message, Tether (USDT) exceeded the unbelievable level of $12 bln in market capitalization. This metric gained 140% since Crypto Black Thursday. Twenty weeks ago its capitalization was below $5 bln.
The Tether team claims that this progress has strengthened the position of the U.S. Dollar Tether (USDT) as the most liquid and trusted stablecoin. The past three weeks were particularly fruitful for this asset.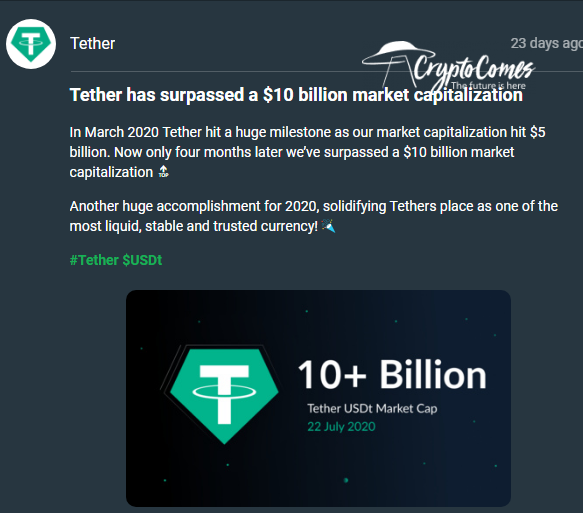 Image by Bitfinex Pulse
It took only 23 days for Tether (USDT) to add $2 bln to its market capitalization. In late July, its market cap had entered the 11-digit zone for the first time.
High liquidity powered by advanced technology
Launched back in 2014, Tether (USDT) was accused of market manipulations that allegedly caused the spike of the Bitcoin (BTC) price in December 2017. The king coin reached its all-time high above $19,000 during these crazy days.
However, Tether (USDT) proved itself as a reliable and stable blockchain-based store of value. Initially, it was minted on Bitcoin-based network OMNI, but Tether added the ERC-20 and TRC-20 versions issued on the Ethereum (ETH) and Tron (TRX) blockchains.
Also, USDT has EOS-based and Algorand-based versions.
Besides unmatched liquidity, Tether experiments with cutting-edge solutions to ensure the high speed of transactions. For instance, it utilizes Liquid, Blockstream's sidechain for Bitcoin (BTC) scalability and Plasma Ethereum (ETH)-based solutions by the OMG Network.