ALGO, the native asset of Algorand blockchain platform, has broken into the list of the top gainers of major spot trading platforms today. Its double-digit upmove is caused by both a solid technological update and interesting promotional announcements in recent weeks.
With smart contracts functionality activated, Algorand (ALGO) can onboard DeFis
According to the official announcement by the Algorand team, its mechanism enabled smart contract capability. Thus, it is now ready to host all sorts of decentralized applications (dApps), including those in the red-hot DeFi segment.
Today, together with the @AlgoFoundation, we announce the launch of Algorand's comprehensive smart contract capabilities that join our existing suite of features to power a new wave of sophisticated applications across #DeFi & beyond! Read more: https://t.co/5guiYTqqjf pic.twitter.com/2rm0K70iI0

— Algorand (@Algorand) August 19, 2020
Smart contracts functionality is integrated into Layer1 of the Algorand blockchain. Now it is accompanied by existing solutions like Atomic Transfers, stateless smart contracts and Algorand Standard Assets (ASA1s). The Algorand team stressed that with the new release, software engineers tasked with building on this blockchain can deploy more sophisticated applications and scale existing products.
Founder of Algorand, Silvio Micali, emphasized that joining the DeFi race was the main focus of adding these functions into the blockchain toolkit:
DeFi gives the world access to an essentially unlimited number of financial products and services. It's important for the new generation of dApps not to be stalled by the shortcomings of the first-generation blockchains.
Algorand utilizes a unique, pure proof-of-stake consensus solution that ensures very high bandwidth, guaranteed finality of transactions and negligible transaction costs (around 0.001 ALGO or $0.000064).
Algorand tokenizes celebrities in a blink of an eye
Besides the impressive technological update, the past few days were fruitful for Algorand (ALGO) in terms of listings and promotional events. On Aug. 14, Algorand (ALGO) issued a token for eccentric millionaire David Portnoy, founder of Barstool Sports blog that covers sport and pop culture.
The Algorand community tokenized @stoolpresidente in a minute, because that's how simple it is to create your own token on the Algorand #blockchain. @tylerwinklevoss @winklevoss https://t.co/Apmc1n3wr0

— Algorand (@Algorand) August 13, 2020
Also, ALGO has been listed by one of the oldest and most recognized cryptocurrencies wallet ecosystems, Blockchain.com.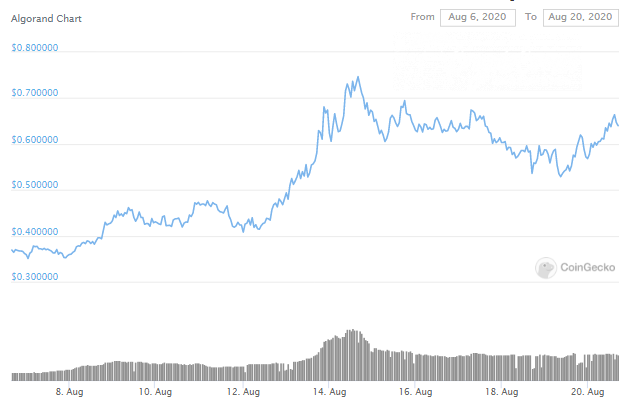 Image by Coingecko
All these announcements made the impressive 92% run of ALGO possible in the last two weeks. At press time, the token changes hands at $0.63 on major trading instruments.