The undisputed leaders of the ongoing decentralized financial instruments craze, Aave Protocol (LEND) and Yearn.Finance (YFI), are in the headlines together today. The native governance asset of Yearn.Finance, YFI token, has been added to the Aave Protocol (LEND) suite of assets.
Another double-digit pump for Yearn.Finance (YFI)
Despite its characterization as a "zero utility" token by the engineers behind Yearn.Finance protocol, YFI token has reached a new all-time high today, Aug. 28. Its price touched the unbelievable level of $17,712 on major spot exchanges. At press time, even after a trivial 2.1% pullback, it is up 22.3% in 24 hours.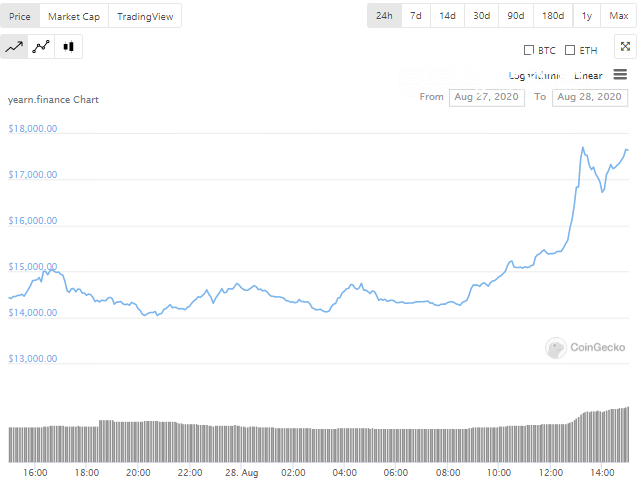 Image by Coingecko
Thus, the YFI price has surged in the last 24 hours from $14,041 to $17,711. Should it keep up this pump, it may surpass the all-time high of Bitcoin (BTC) very soon.
Yearn.Finance protocol released its governance asset, YFI, on July 18, with a launch price of $34. As covered by CryptoComes previously, its incredible run to the sub-$4,000 zone was called the "fastest 100x rally in entire crypto history" by experts and analysts.
The Yearn.Finance ecosystem was created by top-level Ethereum (ETH) developer Andre Cronje. It provides "yield farmers" with seamless exposure to all popular DeFi protocols. Its team highlighted that this token is released solely for governance operations, it has no pre-mine and it brings zero utility.
Listing on Aave Protocol (LEND) may contribute to YFI pump
Another leader in the DeFi race, Aave Protocol, has announced today that YFI-based instruments are now available to its clients. YFI lending/borrowing tools will have a very lucrative loan-to-value ratio of 40%. If a user collateralizes 10 YFI, he/she can get 4 YFI as a loan.
Oh my...

... $YFI is on $Aave...

...40% LTV...

... $LINK Price feed...

...Few Understand pic.twitter.com/hvbfWnn1rc

— Aave (@AaveAave) August 28, 2020
The accuracy of assets' prices in new lending/borrowing instruments with YFI will be secured by Chainlink (LINK) decentralized oracle network.
The native asset of the Aave Protocol, LEND, is also among the best performers of the ongoing DeFi craze that shows no signs of slowing down. The LEND price more than doubled in the last two weeks. It reached its all-time high two days ago at $0.89.
As CryptoComes reported yesterday, Aave Protocol is the first DeFi instrument that surpassed DeFi veteran Maker in terms of total value locked. Given this flippening, explorers are now tracking the "Aave Dominance" metric instead of "Maker Dominance."