This unusual asset may be demonstrating the most impressive run within the complete crypto history. Alongside that, YFI's team outlined that it has no value and can be only used to manage one of the DeFi protocols.
Insane Week for YFI Token
YFI, or Yearn.Finance, is a token that was released about a week ago. At press time, analytical instruments Coingecko estimated its price at $4,041, or up 100% up in the last 24 hours.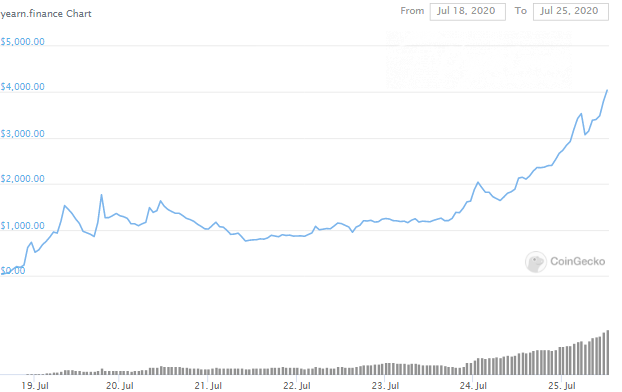 Image by CoinGecko
Despite the clear statement from Yearn.Finance's decentralized liquidity aggregator, a rally occurred. The engineers behind the project highlighted that YFI isn't a regular token. It has no value, no pre-mine, and it won't be listed on Uniswap. So, it's impossible to speculate on its price swings in a familiar manner:
In further efforts to give up this control (mostly because we are lazy and don't want to do it) we have released YFI, a completely valueless zero-supply token. (...) We don't have any of it
Yearn.Finance's ecosystem was created by Andre Cronje, a top-level Ethereum (ETH) developer. It aggregates the most profitable ways to 'farm yield', i.e. to benefit from several lending/borrowing propositions of popular decentralized financial vehicles such as Curve, Balancer, Synthetix, Aave etc.
On July 24, 2020, Mr. Cronje teased about the release of Yearn.Finance v2 in the next three to four days. It would have new users interact and reflect on the progress within the DeFi industry. LINK, LEND, REN, SNX and wBTC will be supporting its farming strategies.
Crypto Community Excited
Many prominent speakers on Crypto Twitter expressed their excitement about the YFI's performance. Some of them highlighted that YFI's surge could be explained by the enormous interest in the DeFi sphere.
Cryptocurrency educationist and podcast host Luke Martin believed that the ongoing YFI rally may be one of the fastest runs within the crypto realm:
$YFI price 6 days ago: $34.53$YFI high today: $3,052.40

This may be the fastest 100x in the history of crypto. Defi is wild.

h/t @Rewkang pic.twitter.com/tSoofDkLAV

— Luke Martin (@VentureCoinist) July 24, 2020
Ex-Messari researcher and angel investor Qiao Wang compared his sentiment about YFI to that of early Ethereum (ETH). He predicts that its 'fair' price would enter five-digit waters very soon, surpassing the price of the flagship cryptocurrency:
I usually don't like talking about something everyone else is talking about, but the YFI genesis is pretty refreshing. Haven't seen anything like this since ETH. They made a good number of grassroot, non-VC early supporters rich, and these people will promote the hell out of it.
Today (July 25th, 2020), it was announced that the FTX crypto derivatives exchange has launched its YFI/USD contracts trading. Its price surged to almost $5,000 within the first two hours of trading.
Thus, the crypto traders have found the way to speculate on DeFi assets, especially on a 'zero-value' asset that is designed for only governance purposes.