Binance, the number one crypto exchange by reported trading volume, has introduced isolated margin trading for five cryptocurrencies: Harmony (ONE), Synthetix (SNX), TomoChain (TOMO), Waves (WAVES) and WazirX (WRX), according to a recent announcement.

More coins for risk-taking traders
Margin trading allows traders to access more capital in order to bolster their buying power (or leverage). The caveat is that traders' positions are automatically liquidated if the market moves against them.
The isolated margin mode, as the name suggests, is used to open a separate position that is detached from the account's overall balance.
The top crypto exchange kicked off margin trading back in July 2019 with only six supported cryptocurrencies as part of the "Binance 2.0" launch.

Gradually, Binance started to add new assets that can be traded with leverage. Last month, it debuted isolated margin trading for Cardano (ADA), Chainlink (LINK) and three other cryptocurrencies.

Synthetix's 180 percent rally
Speaking of the latest batch of additions, there is one cryptocurrency that has stood out over the past month: Synthetix.
It underpins the eponymous Ethereum-based platform for issuing synthetic tokens that are capable of tracking the price of practically any asset.
The SNX price has rallied by more than 186 percent in the past month, which pushed it into the top 40 on CoinMarketCap.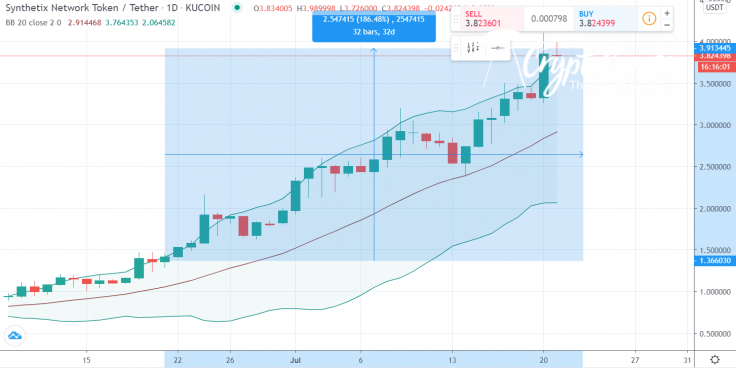 image by tradingview.com
Apart from TomoChain (TOMO), the other cryptos are yet to catch up with the new altseason.