The price of Syscoin (SYS) has just skyrocketed by more than 220 percent, allowing it to become one of the 100 biggest cryptocurrencies on CoinMarketCap.

While this move seems to have come out of the blue, it might be related to the "big news" that Syscoin is slated to reveal on July 23.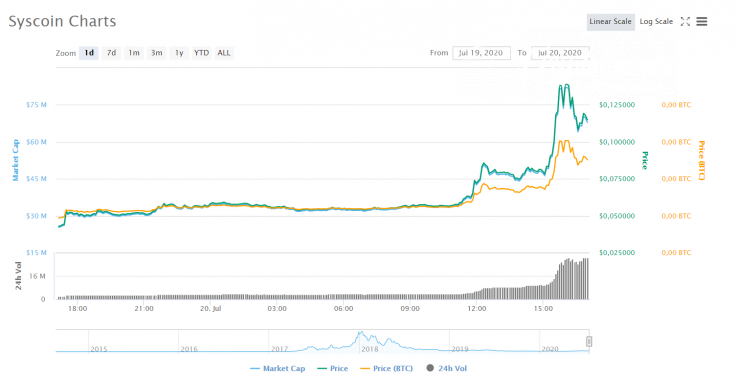 Image by coinmarketcap.com
Building bridges
Syscoin describes itself as the "fastest" and "most scalable" decentralized platform that prioritizes interoperability with other blockchains.

It is believed to be able to handle more than 60,000 transactions per second with its Z-DAG technology.

Because of the PoW/PoS hybrid consensus model, the cryptocurrency can be "merge-mined" with Bitcoin since it shares the same SHA256 hashing algorithm.

Back in January, Syscoin announced a bridge with the Ethereum network that makes it possible for smart contracts to be executed with the help of Z-DAG.


Syscoin has seen wilder moves
Syscoin is no stranger to volatile price moves. Back in July 2018, the price of the cryptocurrency exploded by more than 600 percent in mere minutes after 1 SYS was mistakenly traded for 96 BTC on Binance due to an API exploit.
The incident led to the creation of the "SAFU" emergency insurance fund by the largest exchange by trading volume.
In January 2018, John McAfee named Syscoin one of his coins of the week. However, as with other recommendations made by the crypto baron, this one has not fared well. Even with the most recent price spike, the coin is still down 78 percent since McAfee's tweet.