"Hooks" is the long-awaited amendment to the XRP Ledger protocol that empowers it with smart contracts functionality. Wietse Wind, lead developer of XRPL Labs, has shared the open source code, contract samples and the instruments to run the new XRP Ledger.
Hooks amendment: code and samples are finally in
Mr. Wind published the third chapter of his blog series on XRP Ledger Hooks amendment. While the first two parts covered the rationale behind the launch of Hooks and the specifications of its security design, the latest post invites all developers to play with basic smart contracts for XRP.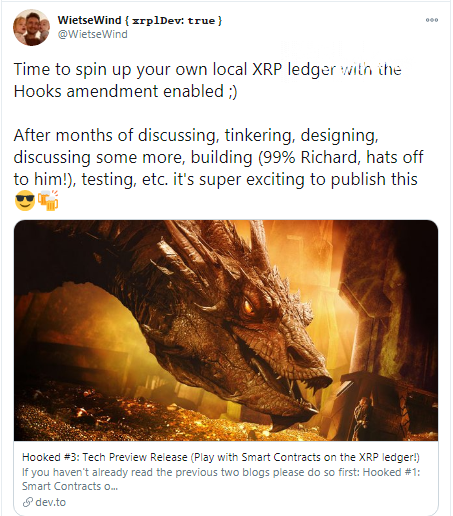 Image via Twitter
Wind shared the code and set of commands for Docker (an app designed to run software in packages-containers) that are necessary for experiments with smart contracts based on XRP Ledger.
The source code is available in GitHub's work-in-progress repository. To optimize the testing experience, a developer needs to run two terminals simultaneously: one to see the logs and another to issue commands for smart contracts environments.
The detailed blog post also includes API settings, commands and tips needed to interact with XRP Ledger software with Hooks enabled.
XRPL and smart contracts: a thorny path
XRP Ledger validators highly praise the latest release by Mr. Wind and have already started testing Hooks on their nodes:
I just got done setting up a virtual machine on one of my servers, and I can't wait to start testing out the $XRP Ledger Hooks Amendment.
As covered by CryptoComes, the "Hooks" amendment is among the most exciting XRPL novelties in 2020. In October of this year, this upgrade went live in Alpha mainnet, pioneering the smart contract experience for the popular remittances ecosystem based on XRP.
At the same time, Flare Networks is attempting to harness XRP's power by launching a programmatic "XRPL fork" Flare. At press time, the Flare Finance DeFi shared its plans to become the first decentralized finances protocol built on top of the XRPL fork.