Flare Finance, a pioneering decentralized finances ecosystem that will leverage Flare XRPL fork, is taking shape in terms of design and security. Its team disclosed some details of the initial stages of Flare Finance operations.
No "testing-in-prod" in Flare Finance
The core codebase of Flare Finance will undergo a security audit by a third-party cybersecurity vendor. Also, it will be reviewed by Flare Networks prior to mainnet deployment.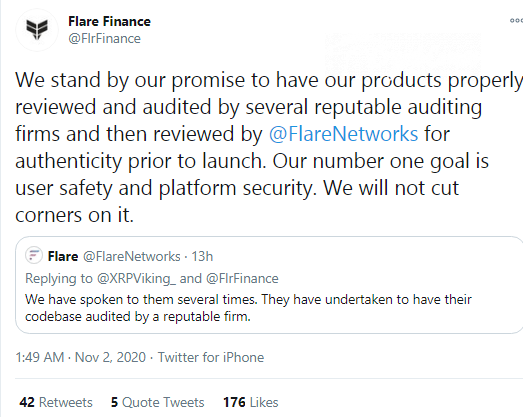 Image via Twitter
As a result, Flare Finance will not suffer from code vulnerabilities that plague modern DeFi. As covered by CryptoComes previously, the unaudited protocol Yam Finance (YAM) witnessed its token price decline by 99.8 percent in 24 hours.
Due to a breach in the protocol's funding contract, potential malefactors could mint an unlimited amount of YAM. Yam Protocol is very far from being alone in this field.
Unaudited "yield faming" tools were repeatedly looted in Q3, 2020, with eight-digit losses. Meanwhile, greedy "farmers" invest their assets in this type of protocol again and again.
Also, Flare Finance team is considering the opportunity to send its codebase for review to XRPL Foundation directly, as its representative admitted on a Twitter discussion.
Beware of scammers
Flare Finance dismissed the most common myths about the Spark token airdrop by Flare Networks. First of all, claiming Spark tokens either through custodial or noncustodial solutions does not imply disclosure of private keys or any other type of sensitive information.
Any XRP holder interested in Spark airdrop will get his/her tokens for free. Thus, everyone who asks for XRP or ETH for participation in the airdrop is a scammer. Flare Finance has nothing to do with these offers:
#FlareFinance wants to reassure the fact that this is a FREE #airdrop and that we will never ask for any holders of $FLR or $XRP (or any for that matter) to provide us with private keys, payments, or personal information to receive this airdrop.
As covered by CryptoComes, Flare Finance is the first ever DeFi based on the much-anticipated XRPL fork, Flare. It will include stablecoins, liquidity pools and lending/borrowing instruments.