Markus Alvila, CEO and cofounder of TowoLabs, has asked XRP community enthusiasts about the first XRP wallet to activate the whole range of noncustodial XRPL features. See the variants proposed by XRP experts.
Who will bring DEXs, IoUs and escrows to XRPL?
Mr. Alvila shared the latest episode of Ripple Drop (Episode 21), an interview show that covers XRP prospects in the decentralized finances segment. He asked which wallet may be the first to implement the most crucial of them.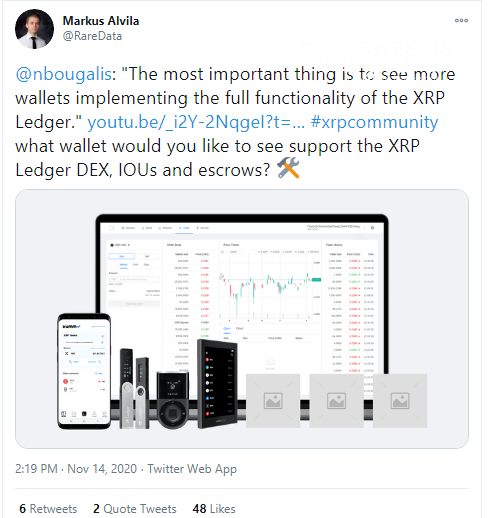 Image via Twitter
Decentralized exchanges (DEXs), lending/borrowing instruments (IoUs) and escrows are red hot use cases for XRPL-based decentralized cryptocurrency applications.
XRP Ledger developer Nik Bougalis claims that Edge Wallet may be close to the activation of XRPL-based IoUs and a conversion feature for decentralized crypto exchange.
Some community membmers supposed that hardware wallets like Exodus, Ledger, Trezor and NGrave would be a perfect environment for these features. However, Mr. Alvila remembered that Trezor is failing to enable full functionality of XRPL features:
Trezor received the necessary code some 9 months ago, we hope they find time to review it early 2021.
When XRP Ledger meets DeFi
Meanwhile, CEO and cofounder of XRPLorer on-chain analytics team, Thomas Silkjaer, admits that IoUs on XRP Ledger are already up and running—though with very low liquidity.
At press time, empowering XRP Ledger with DeFi functions (actually, with smart contracts) is now organized in two workloads. Flare, the much-anticipated "utility fork" of XRPL, will create a parallel blockchain with Spark tokens pegged 1:1 to XRP.
It will utilize Avalanche consensus and be fully compatible with Ethereum (ETH). The first DeFi on Flare, Flare Finance, has shared its plans to launch stablecoins, "yield farming" and a lending/borrowing environment.
The second DeFi option for XRPL is "Hooks," which can be referred to as primitive smart contracts. As covered by CryptoComes previously, on Oct. 22, XRPL Labs head Wietse Wind announced that "Hooks" have been tested in the alpha mainnet.