Uniswap (UNI), the governance token of automated market maker Uniswap, took a major hit on Oct. 6, tanking by more than 15 percent over the past 24 hours.

It dipped to just $2.85, the lowest point since getting added to cryptocurrency tracker CoinGecko, before paring some of its losses.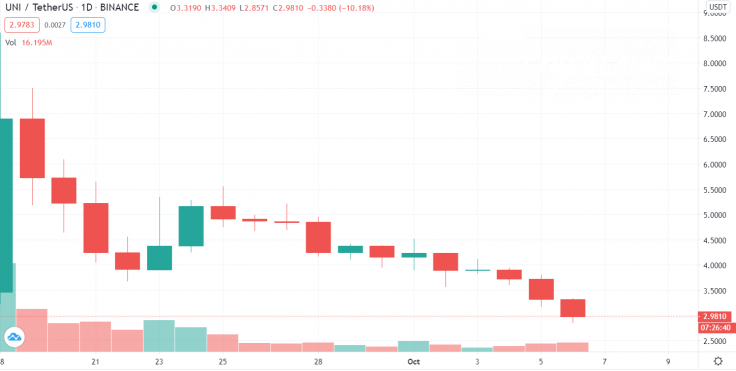 Image by tradingview.com
It's not all rainbows and unicorns anymore
The embattled token is currently trading at $2.98, down 80 percent from its current all-time high of $15.

After the drama around its arch-rival SushiSwap, Uniswap once again appeared in the limelight in mid-September because of the surprise giveaway of its native token.

UNI surely won the award for the largest Coinbase listing — it ended up on the largest U.S. exchange on its launch day, which triggered a short-lived bout of immense FOMO.

As soon as the speculators' heads cooled, UNI began its downward spiral.
SUSHI is performing even worse
If it wasn't for PumaPay (PMA) collapsing 88 percent, UNI would be the biggest laggard within the CoinMarketCap top 100.

Compound (COMP) and Swipe (SXP) have also suffered double-digit losses. Band Protocol (BAND) is the only DeFi-focused coin in the green today.

UNI holders could also find solace in the fact that SUSHI is having it even worse. The token is down over 20 percent today after dipping below $1 for the first time since the Binance listing on Oct. 4.