The inflow Tether (USDT) to cryptocurrency exchanges recently reached its highest level since November 2019, according to data provided by Glassnode.

This came after the price of Bitcoin soared to its new 2020 high of $10,956 after finally cracking the $10,500 resistance.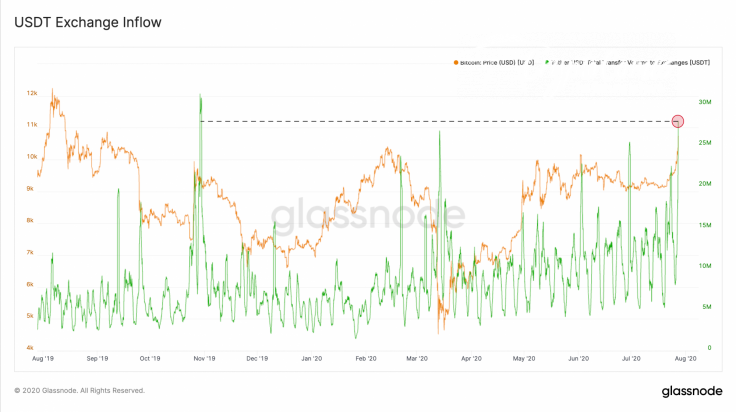 image by @glassnode
Tether's 10-fold growth
Tether's Bitcoin supply recently surged above $10 bln after its supply exploded amid a flight to liquidity triggered by the seismic crash in mid-March.

The controversial stablecoin, which has faced numerous accusations of insolvency and criminal conspiracies, has grown nearly ten times since the end of the previous bull market.

USDT has now surpassed Bitcoin both in terms of transaction value and total trading volume, which signifies its importance for the market.

Tether (USDT) hit a rough patch back when its supply tanked more than 44 percent in tandem with the price of Bitcoin in late 2018.

Its supply started to increase again in May 2019, which coincided with Bitcoin's streak of gains that took to the $11,000 level in June.


Watching the money
When exchanges see an increase in net inflows of stablecoins, the BTC price tends to be on the rise as well, according to market analyst Elias Simos.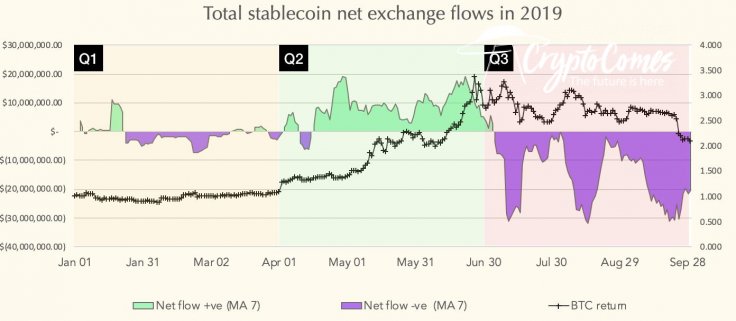 image @glassnode
USDT issuance is also widely considered bullish for Bitcoin. Some critics believe that Tether can wield the power over the BTC market due to a highly contested study published by researchers John Griffin and Amin Shams in June 2018.

The stablecoin issuer claimed that Tether purchases are driven by demand while calling Griffin's paper "flawed":
"Despite Griffin's false bravado in recent aggressive statements to the media, the authors demonstrate a fundamental lack of understanding of the cryptocurrency marketplace and the demand that drives Tether token purchases."