Coinmetrics is presenting the Rise of Stablecoins report within the framework of a partnership with Bitstamp cryptocurrency exchange.
Breakthrough after historic crash
The Coinmetrics team highlights that the demand for stablecoin existed even before the launch of Bitcoin (BTC). The United States Dollar Tether (USDT), by pioneering this sphere in late 2014, introduced the very useful instrument of a blockchain-based asset with a stable price.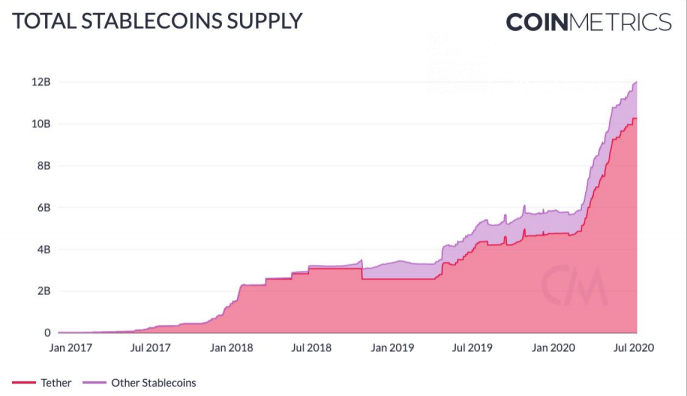 Image by Coinmetrics
Now tethers (USDT) are issued on any blockchains, aside from the initial Bitcoin-based OMNI platform, i.e. on Ethereum (ERC20-USDT) and Tron (TRC20-USDT). USDT is responsible for almost 85% of the total stablecoin supply.
Also, USDT proved itself to be among the most "stable" stablecoins during the time of Black Thursday's cryptocurrency market collapse. Coinmetrics showcases that, due to insane trading volume spikes, some stablecoins lost their USD pegging and "skyrocketed" to $1.02 or even $1.05. These price swings generated lucrative opportunities for arbitrage trading.
And it was Black Thursday that sent demand for stablecoins through the roof. The total USD equivalent of their supply surpassed $12 bln with an almost 100% increase over the past few months.
USDT looks like a "whale-dominated" stablecoin as the lion's share of its supply is allocated to accounts (wallets) with $10 mln+ balances. Retail users still hold only a tiny fraction of USDT.
The viewpoint of a king
However, USDT velocity and median transaction volume showcase that it is used as "money" for end users' transactions. In contrast, HUSD and BUSD are most likely used for inter-exchange settlement or large trades.
It was this June when the amount of value transferred via stablecoins exceeded the comparable indicator for Bitcoin (BTC) for the first time. The CoinMetrics team claims that this is a huge milestone for the entire stablecoin realm.
In a conclusion, authors of the report admit that USDT will dominate this segment in the near future due to unmatched liquidity and trading volume. But the level of competition in this sphere is on the rise and:
...other stablecoins should eventually catch up.